Taylor Swift and Kelce Brothers Dodgeball Meme Explains Why the Chiefs Never Stood a Chance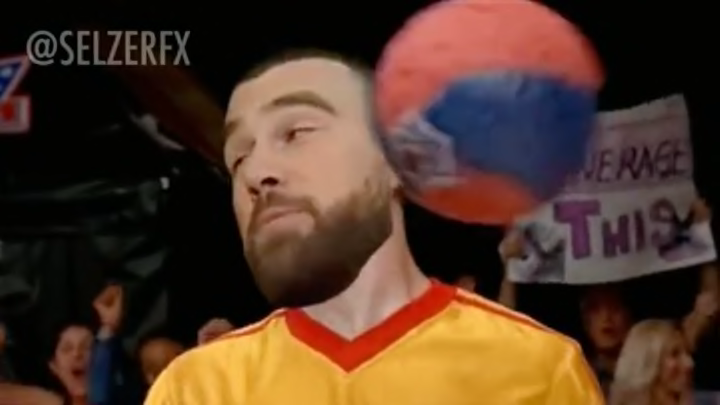 The Philadelphia Eagles beat the Kansas City Chiefs on Monday. Taylor Swift was not in attendance, which pretty much explains all the of the Chiefs' struggles. It's hard not to believe that Marquez Valdes-Scantling dropped that easy touchdown from Patrick Mahomes or Travis Kelce played poorly again just because Swift chose to stay in Argentina, rather than travel to Missouri to sit next to her boyfriend's mom during the game.
Of course, if she had been in attendance, we only have a small sample size saying the Chiefs would have won and Kelce would have excelled. Perhaps it really would have been like the final match in Dodgeball with Travis Kelce playing Justin Long's character and Taylor Swift distracting him with her proclimation of love right before Jason Kelce hit his brother in the head with a ball.
If hearing someone say "Joanie loves Chachi" wouldn't cause you to fumble in the red zone, well, you're made of stronger stuff than most professional athletes.
So maybe the Chiefs never stood a chance on Monday night. With or without Swift in attendance the Eagles might just be a really good team. They have the best record in the NFL at 9-1 and their only loss is to the New York Jets so... I guess the point is that... anyone can win any game? Please someone explain the Jets beating the Eagles in a meme from a two-decade old Vince Vaughn movie. And if you can include Taylor Swift that would be great. Thanks.