Talanoa Hufanga And James Conner Fight After 49ers Beat Cardinals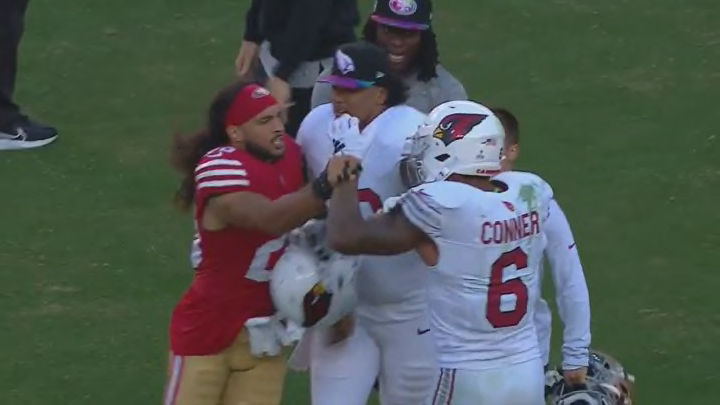 The San Francisco 49ers beat the Arizona Cardinals 35-16 on Sunday in a game that was much closer than the final score. There were some scuffles during a contest that got chippy at times. After the final whistle, Cardinals running back James Conner and 49ers safety Talanoa Hufanga got into a fight and had to be separated.
Check this out:
We're not sure what caused this, but it's clear Conner wasn't pleased with Hufanga. Hufanga seemed to be smiling about it and largely unbothered, while Conner was heated. He started this with a shove to Hufanga's face, which may lead to a call from the NFL's disciplinary folks. A fine could be headed his way.
Hufanga, an All-Pro in 2022, finished the day with five tackles, while Conner rushed for 52 yards on 11 carries, and added one receptions for four yards.
The game was close entering the fourth quarter, with the Niners up 21-16. But San Francisco outscored Arizona 14-0 in the final quarter to pull away.