Switzerland Upsets France in One of the Best Matches in Euro History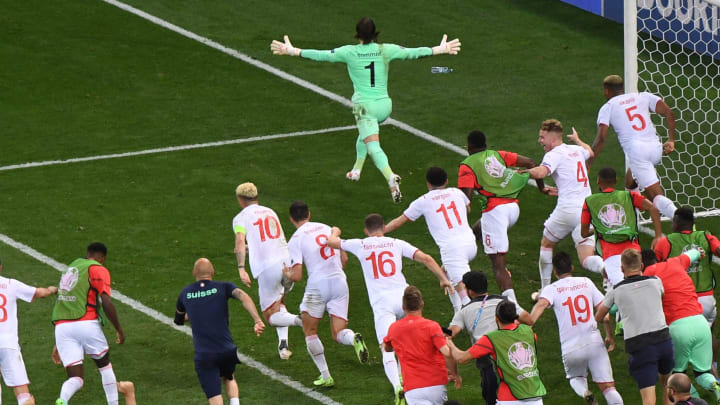 TOPSHOT-FBL-EURO-2020-2021-MATCH41-FRA-SUI / DANIEL MIHAILESCU/Getty Images
France and Switzerland squared off in an absolutely incredible match at Euro 2020 on Monday and it certainly ranks among the best in the competition's history. After finishing a thrilling 120 minutes level at 3-3, the Swiss won 5-4 in penalty kicks to knock France out in the Round of 16.
It was an utterly brilliant match, with six highlight-reel goals and a wonderfully tense session of penalties that showed each squad's quality. It was, quite simply, the match of the tournament and arguably the best international match we've seen since the 2018 World Cup.
Early on, the Swiss scored to take a 1-0 lead in the 15th minute on a Haris Seferovic header.
The French were on the back foot for the next 40 minutes, when the Swiss earned a penalty and a chance for a 2-0 lead. Ricardo Rodriguez stepped to the spot and blasted the ball to the lower left corner, but French keeper Hugo Lloris made the save of the tournament.
That galvanized the French, and three minutes later Karim Benzema did this:
That tied things up in the 57th minute but the match didn't stay tied long. Two minutes later Benzema found the back of the net after a beautiful buildup:
That seemed to take the air out of Switzerland's balloon and in the 75th minute, Paul Pogba scored on a wonder-strike from outside the box:
It looked as if the France had reasserted its dominance and put the pesky Swiss away. Even when Seferovic found the net in the 81st minute to make it 3-2, it felt like a last gasp:
In reality, the Swiss were alive again. In the 86th minute, it looked like they had leveled the match, but Mario Gavranovic was ruled offsides:
But in the 90th minute Gavranovic broke through and beat Lloris to tie the match at 3-3:
That wasn't it for regulation though. In the dying moments of stoppage time, France's Kinsley Coman hit the post:
It was on to extra time after an incredible second half that featured five goals, all of which belonged on a highlight reel.
No one scored in extra time, so the match was thrown into a penalty shootout, where each team's first four spot-kick specialists found the back of the net. In the fifth round, Switzerland's Admir Mehmedi converted his kick to the bottom right corner, leaving the fate of the French up to young star Kylian Mbappe.
Mbappe stepped to the spot, but his shot to the bottom left corner was saved by Yann Sommer, who hesitated a moment before celebrating with his teammates:
What a moment. What a match.