Swapping Kawhi Leonard For Al Horford, Jayson Tatum Would be the Bold Move Celtics Need to Make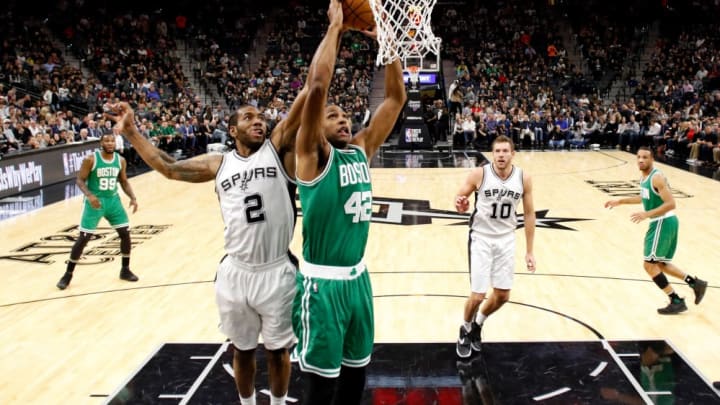 Kawhi Leonard is the man the Boston Celtics need. With him on the roster, the Celtics would be ready to win championships.
He's a superstar among superstars. He could soon become available on the trade market, if he hasn't already. The Celtics have the assets to bring him in to help form a championship-caliber group.
While Kyrie Irving, Gordon Hayward, Al Horford, Jayson Tatum and company can likely get the Celtics into the NBA Finals next year, a trio of Irving, Hayward and Leonard can win Boston a title next year — and maybe a few after that.
Why pass up that opportunity? Here's the deal to propose:
SPURS GET:
– Al Horford
– Jayson Tatum
– Memphis 2019 pick (protected)
CELTICS GET:
– Kawhi Leonard
– Pau Gasol
This deal would come after the Celtics have leapt over a number of hurdles.
Hurdle 1: Kawhi's contract expires after the 2019-20 season.
How they get over it: The Celtics need to have a deal in place to keep Leonard around long term.
Hurdle 2: Kawhi needs to be healthy and ready to play.
How they get over it: Run him through a physical to be sure he's healthy. Maybe he already is healthy, which brings us to…
Hurdle 3: Kawhi has picked a fight with one of the most successful coaches and franchises in the history of sports. Who crosses Gregg Popovich's Spurs? Why in the world would the Celtics want to inherit that ungrateful 26-year-old? Danny Ainge and Brad Stevens would have to be comfortable with acquiring a player who basically gave up on his team.
How they get over it: Talent trumps all. The Celtics inherited a discontent star in Irving. And he has been compliant under Stevens. Stevens isn't Popovich, but maybe that's a good thing — maybe that helps Stevens' youth and inexperience lends itself to enduring and managing a young ego.
Hurdle 4: The Celtics love Tatum — and Horford.
How they get over: The organization and fanbase's affection for Tatum is tremendous. Horford is beloved, too. But Kawhi would be revered if he joined the Celtics. His on-court production would sooth all worries. He's outstanding on offense. He can be a LeBron stopper on defense. He was once considered the second best player in the NBA — or at least finished second in MVP voting. He could be one of the top five players in the league next year. Meanwhile, Tatum might be the best one of the top five best players in the league in six years.
As for Horford, his defense will be missed. His leadership will be missed. His ability to move the ball and shoot from three will be missed. But he's aging and doesn't put up big numbers on the offensive end. He can't take over a game — Kawhi can.
With Leonard, the Celtics could land a superstar in his prime. That's a priceless asset.
Hurdle 5: Jaylen Brown and Leonard are hugely similar players. LaMarcus Aldridge and Horford are hugely similar players.
How they get over it: In a way, that's why this trade could get done. The organizations would clearly appreciate the incoming talent — they are currently appreciating similar talents. It would just be a jigsaw puzzle to properly use those talents on the court.
But Horford and Aldridge are different enough that they could work together. Anthony Davis and DeMarcus Cousins, while enormously different players than Horford and Adridge, are two bigs who have not just learned to coexist but have also thrived together. It's not crazy to think Horford and Aldridge would operate well together.
As for Brown and Leonard, Stevens might stunt Brown's development slightly. But Brown's playtime would have been limited behind Hayward and Tatum. In this scenario, he sits behind Hayward and Leonard. If Brown earns the minutes, Stevens will find ways to get him on the floor.
When an all-world player hits the trade market, the costs can be high. But Leonard is probably the perfect buy-low candidate for the Celtics.