Best Tweets and Memes About the Death of the Super League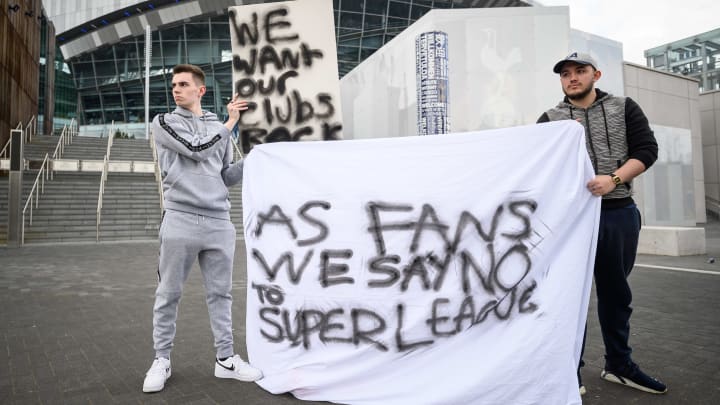 Fans Respond To News Of Football Super League / Leon Neal/Getty Images
On Sunday, news broke that 12 of the best, wealthiest European soccer clubs were forming their own league, coined the Super League. The idea was to give fans the best possible competition in every match and eliminate uncompetitive matchups between powerhouses and smaller clubs without the prestige or wallet to acquire the best players in the world. In reality, it was just another way of making the rich even richer.
Fans were in an uproar when it was announced and protests took place en masse. Players and managers spoke out against the decision. Finally, exactly one day after the initial announcement, Chelsea announced it was withdrawing from the Super League. This was the first domino to fall as the Blues were quickly followed by Manchester City and Atlético Madrid. Then Manchester United's chairman resigned. The Super League is now basically dead in the water as the dominoes continue to fall.
The Internet had a field day with that news. Here are the best Tweets fired off as the Super League collapsed around us.
In case you don't understand the joke below, here's an explainer of how a Lakers fan catfished everybody.