Bold Predictions For Super Bowl LVI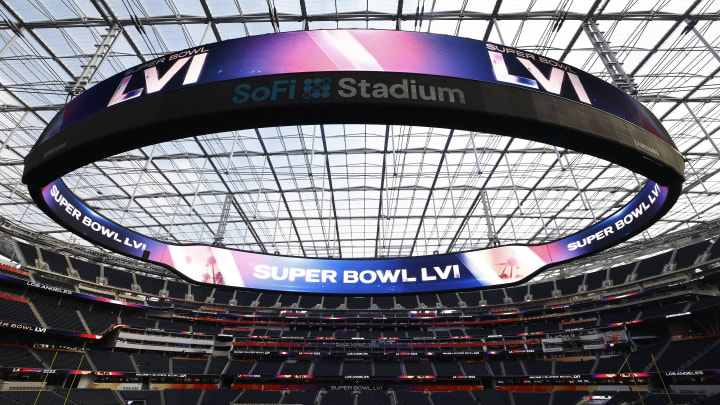 Super Bowl LVI / Ronald Martinez/GettyImages
Super Bowl LVI will take place on Sunday, February 13 between the Los Angeles Rams and the Cincinnati Bengals. It should be a great game. Exciting times. Here are The Big Lead's biggest and boldest predictions for the Big Game.
Aaron Donald Will Win Super Bowl MVP
This may not seem bold on the surface, but Aaron Donald's odds to win Super Bowl MVP are at only +1600 according to WynnBet. By betting standards that makes him a pretty big underdog to win the award. The stage is set perfectly for Donald to dominate in a way even the average football viewer understands. The Bengals' offensive line is bad, letting Joe Burrow get sacked 51 times throughout the year and giving up an NFL record of nine sacks in one playoff game in their divisional round. Their biggest weaknesses are on the interior; Cincy was forced to shuffle right guards in the middle of the AFC Championship Game because performance was so poor.

It's hard for a defender to win MVP because it's a fan vote, and it's hard to grasp even the best defender's impact unfold compared to a receiver going for 100 yards or a QB throwing for three touchdowns. But Donald will live in the backfield, forcing Burrow to scramble on every passing down, and will disrupt the offense to the point that there's no other choice. -- Liam McKeone
Joe Mixon Will Have 25+ Carries
Cincinnati has been squeaking past opponents largely by finding a way to do just enough in the 59th minute. A Super Bowl gameplan will look to control the clock and shorten the game. Mixon is a brute and one way to take the venom out of the Rams' defensive line is to force it to fight through blocking and make a bunch of tackles. 
Mixon has been so good in the screen game when it matters and McVay will scheme against that. Look for the Bengals to eclipse the 34-minute mark in time of possession yet ultimately lose the game. -- Kyle Koster
Trey Hendrickson Becomes a Household Name
Over the offseason, the Bengals reloaded on defense through free agency and their marquee signing was pass-rusher Trey Hendrickson. He had just come off a career year for the New Orleans Saints. That signing has worked out great; Hendrickson is arguably the best player on defense for Cincinnati and recorded 14 sacks this year. But there's reason to believe he'll be absolutely dominant in the Super Bowl.
The Rams' offensive line is good but not great, and the Bengals' playoff run has shown Hendrickson has a nose for the spotlight. He's recorded a sack in every playoff game and has been a monster on third downs, especially. Hendrickson will force a turnover in a big spot and record a few more sacks to ensure he won't be forgotten, win or lose. -- McKeone
There Will Be a Fake Punt Touchdown
Big swing here but if anyone is known for trickery and passing aptitude from the punting position, it's Johnny Hekker. The beauty is that no one will be expecting it because everyone is expecting it. Or, better, the Bengals decide to beat Hekker at his own game. -- Koster
Ja'Marr Chase Smokes Jalen Ramsey
Ja'Marr Chase's rookie season has been an absurd outlier and he's set numerous records already that he'll only build upon in the Super Bowl. The matchup between him and All-Pro cornerback Jalen Ramsey will go a long way towards determining who emerges victorious here. Ramsey won't stick on Chase all day, if the Rams' divisional round game against the Bucs is any indication. Then, Ramsey roamed around the defense and only matched up with No. 1 receiver Mike Evans on the most important downs.

One figures Chase's perfect year has to end at some point. The prediction here is it will not. There will be multiple big moments on third down and in the red zone where Ramsey is tasked with stopping Chase in man-to-man coverage. And Chase will leave him in the dust. Ramsey is a great cornerback but he isn't establishing an island. Burrow will find his favorite target when it matters most. -- McKeone
Cooper Kupp Will MVP
Joe Burrow and Matthew Stafford have each negotiated three consecutive successful weeks of playoff football. And although one will emerge with as many Super Bowl rings as Aaron Rodgers and one more than Dan Marino, it is still tough to give full trust and confidence. 
Surveying both rosters, it appears there are two guarantees. Ja'Marr Chase and Cooper Kupp. They've torn it up and Zac Taylor and Sean McVay will be damned if they go into the offseason without trying to force-feed the ball to their biggest game-breaking options. Los Angeles should control the line of scrimmage and afford more opportunities for encumbered passing. All of this adds up to taking a flier on Kupp as MVP. 
The stats should be there at the final whistle and there will be more than a few media members looking to make-good on their regular season MVP ballot that undervalued the Rams unbelievable wideout. -- Koster