Stugotz Talked to Jake Owen For 20 Minutes, Thinking He Was Aaron Rodgers: 'It Was Sexual in Nature'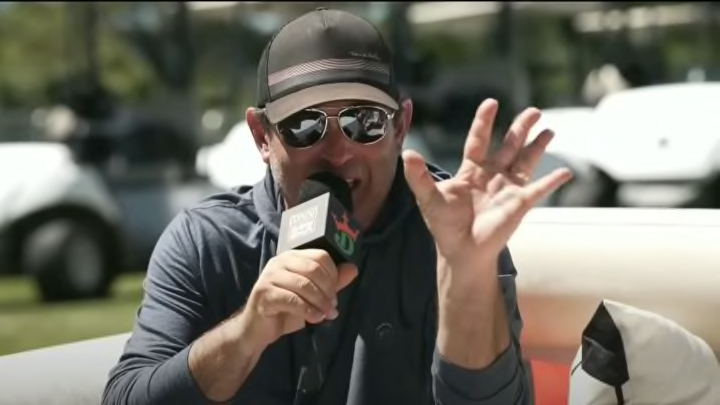 The Meadowlark Media (with the help of an affordable razor manufacturing company) sent a faction of the Dan LeBatard Show with Stugotz team to Tahoe this week to create some content on the ground at the star-studded American Century Celebrity Golf Championship Tournament. It did not take long as Stugotz mistook country music star Jake Owen for Aaron Rodgers and proceeded to have a twenty minute conversation with him which he would later describe on the show as "sexual in nature."
Here's Stugotz and Jeremy Taché telling the original story the "Aaron Rodgers" encounter in the second hour of Wednesday's show, hours before they found out that it was actually Jake Owen.
Here's Stugotz explaining how he convinced Owen, who he thought was Rodgers, to appear on the show later this week.
"The key to my sell to Rodgers was no Dan. Okay? I said listen, you're going to come right there. We're going to talk Jets. We're going to talk shrooms. We're going to talk what kind of incredible road trip I'd been on which he was actually asking me many, many questions about. And I said, here's my promise to you, No Dan."
Now here's the emergency podcast where the on-site crew discusses Stugotz's folly.
"I've been thinking about this and I've been thinking like just going through the details of the conversation, the many different ways I must have freaked out Jake Owen. And it's kept me up most of the night. I'm a little tired. I've got to be honest. I was hugging him. I was patting him on the stomach. I'm like You're my quarterback. You're my quarterback. And Jake Owen's going I am, I am because he starts to sink into it and I love you Jake Owen for doing it. You have become the target now this week. I don't care if we get another guest on. I just want Jake Owen. And I want him to talk us through the conversation and how uncomfortable he was and when he decided you know what? I'm just going to roll with this."
Just absolutely incredible content. You cannot plan something like this. You just have to let it happen. And then lose sleep because you realized you got a bit too sexual with a singer you thought was a quarterback. Classic Stugotz.
2023 American Century Championship - Preview Day One / Isaiah Vazquez/Clarkson Creative/GettyImages
(Not Aaron Rodgers.)