Stipe Miocic and Daniel Cormier's Big Fight Was Marred By a Lack of Eye Witnesses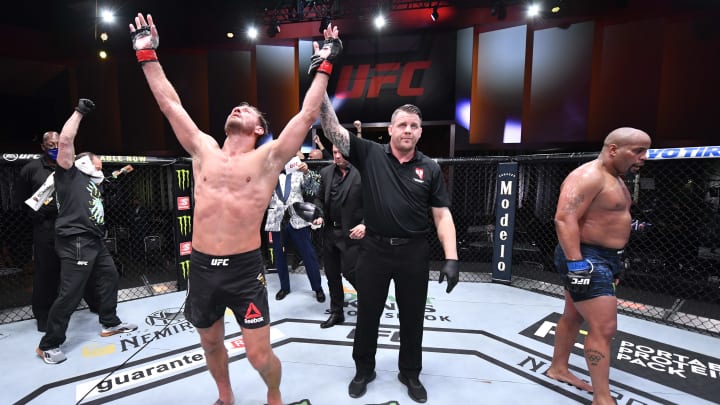 Stipe Miocic and Daniel Cormier after UFC 252. / Handout/Getty Images
Stipe Miocic won his trilogy fight against Daniel Cormier on Saturday night to earn the unofficially, much-disputed title of greatest heavyweight in UFC history. Miocic won by decision over a half-blind Cormier in a mostly empty UFC APEX Center in Las Vegas. Yay?
It is always nice when the UFC is able to put together an actual fight between two high profile fighters. Cormier is one of their main commentators and a former two division champion. Miocic a long-reigning champion who has spent a decade with the promotion. Its the kind of fight you expect the UFC to make, but in an empty little arena, it just felt... empty.
It's a shame that any sports league has to operate under these circumstances, but that's reality. We'll see how the NBA playoffs go, but with their crowd noise and virtual fans it's unlikely it feels a fraction as dead as a big UFC fight does.
Miocic - Cormier 3 had all the buzz of a Ultimate Fighter preliminary bout. There is just no replacing the buzz of a big fight in a packed arena. Who knows how it would have improved the feel of that 25-minute fight. How would they have felt about the eye pokes? Would they have blamed Cormier? Turned against the champion? Who knows.
All we do know is that something is certainly missing without a crowd for a big fight. It's the UFC's perogative to push through and complete as many events as possible at all times, but now might have been a good time to slow things down a bit. It's just a shame that anything short of government intervention could do it.
Miocic - Cormier was supposed to have historical significance. It just felt like another televised exhibition without the crowd. There was a high profile fight to be made and the UFC made it. What were they supposed to do? Wait another year for fans to be allowed in an arena across town? We'll just have to wait and see how Cormier's retirement goes.