Steve Smith Went Off on Jerry Jeudy on the NFL Network After Pregame Confrontation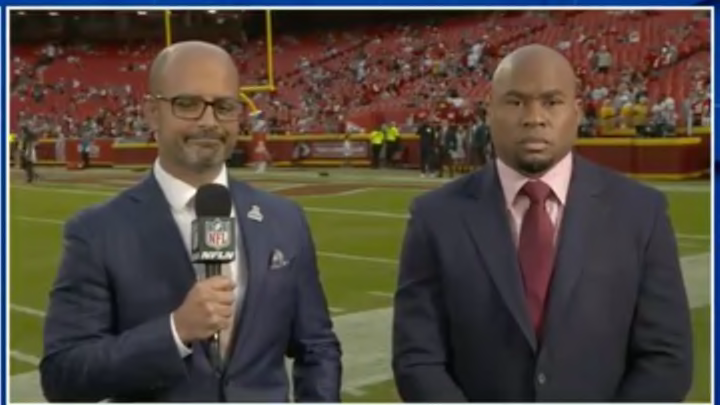 Steve Smith was on the sideline for the Denver Broncos - Kansas City Chiefs Thursday Night Football game to start Week 6. Smith and Mike Garafolo were reporting from the field for NFL Network ahead of the game when Smith decided to have an airing of the grievances as he told a story about what had just happened between himself and Broncos wide receiver Jerry Jeudy.
Apparently Smith had called Jeudy a "JAG" (just a guy) on his podcast over the summer. Jeudy did not like this and told Smith he didn't want to talk to him when Smith tried to apologize on the field. This bothered Smith a great deal as he proceeded to go scorched earth on Jeudy.
"I'm sorry that I said you were a JAG. Just a guy. Whose an average wide receiver they used a first round pick on that isn't doing anything. I hope today that you actually show up in a way that you haven't showed up in the last couple years since they drafted you. So if you ever have a problem with Agent 89, I'm sorry for saying that you were an average wide receiver that they will eventually move on and when teams call me and ask if they should trade for you, I would say no, don't trade for Jerry Jeudy becuase he's mentally unable to handle constructive criticism from people who watch specifically. Can he be a wide receiver? He could be a wide receiver, he's a tier three. Go back into the studio now. I'm done. now. Thank you."
When you spell it out it seems kind of unprofessional and petty. What with Smith threatening the livelyhood of a current NFL player on live television. And then he got applauded for it. And then the NFL Network put the video on social media. Seems a tad uncool. All because Steve Smith had his feelings hurt by someone whose feelings he hurt.
I guess the good news is that Jeudy then maybe attempted to troll Smith by dancing behind him while they were live.