Steve Doocy Delighted By Vivek Ramaswamy's Horrible 11-Second Freestyle Rap on 'Fox & Friends'
You try to ryhme trail with trail. It's not easy.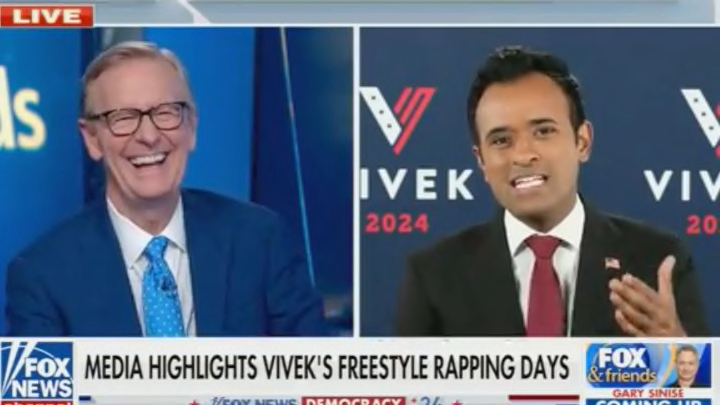 Vivek Ramaswamy appeared on Fox & Friends on Thursday morning where Steve Doocy asked him about the recent revelation that he was a Eminem and Limbertarian-inspired rapper when he was a Harvard undergrad. Ramaswamy confirmed the stories and even did a short rap for Doocy, who absolutely loved it.
My name's Vivek
It rhymes with cake
It ain't about thee
It isn't me
It is about thee
The United States is about literty
So Fox & Friends, join us on the trail
We'll have some fun, I'll see you at the trail
It's not exactly the final battle at The Shelter, but it's still somehow not the worst thing we've seen from a presidential candidate this year. Here's a little on his time rapping at Harvard from The Crimson:
"It's the most shocking transformation someone will ever undergo" says Michael B. Chow '07 of Ramaswamy's rapper alter-ego. Though "Da Vek" raps libertarian prose with the utmost of ease, don't expect to see him in section. The rapper, who fearlessly showed off his skills at the Busta Rhymes concert in spring 2004, only emerges when Ramaswamy is outfitted entirely in black, complete with a black Kangol hat. "They're two completely different people," says Chow.
As Fox News showed, both Politico and The Daily Beast had pieces about Ramaswamy's college rap career yesterday. Now that it's out, he's apparently going to go with it. Here he is on SiriusXM somehow dropping an even shorter freestyle.
It's Vivek like cake
I'm not fake
And and I swim in a lake
Of truth
That's me
Vivek
Yeah
So get ready for much more of this over the next few months. It wouldn't be completely shocking if Ramaswamy ended up on stage at FOX's All-American Summer Concert Series at some point. Heck, if he wants to really strike while the iron is hot he could open for Flo Rida tomorrow morning.
UPDATE: It should also be noted that this is apparently Vivek with cake.