Stephen A. Smith Calls Kyrie Irving Situation 'Flat-Out Stupid'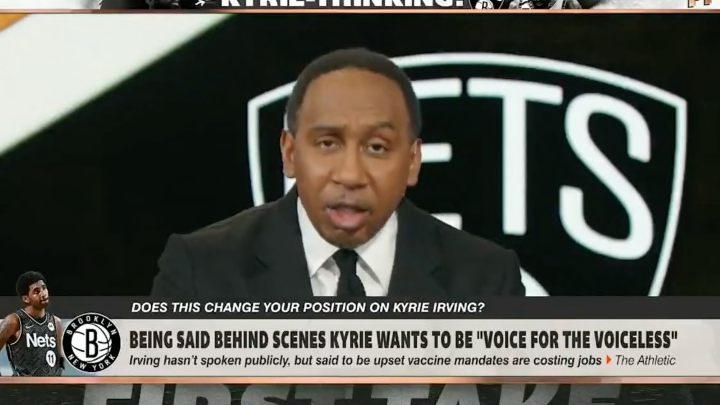 Stephen A. Smith /
Kyrie Irving will not play for the Brooklyn Nets until he gets vaccinated. The situation finally came to a head on Tuesday as the team announced that decision. Later that day, Shams Charania published a report for The Athletic in which sources insisted Irving's refusal to get vaccinated has nothing to do with his level of trust in the shot itself and everything to do with wanting to stand up for people who are being forced to choose between being vaccinated and being employed. The specific wording was "a voice for the voiceless."
Stephen A. Smith, who has long been done with Irving's antics, spoke about the situation on First Take today, and he spoke bluntly: it's "flat-out stupid" and "some of the stupidest nonsense" he's seen covering the NBA for the last quarter-century.
"But now, you have regressed to an alarming level of self-righteousness. It not only makes you look hypocritical and untrustworthy, it makes you look what I know you are not, which is flat-out stupid."
Smith sums it up pretty well. There are numerous holes to be poked in the idea that Irving is giving up his platform in an effort to stand up for those who cannot stand up for themselves. Especially in light of the fact that Irving refused to actually give anybody a voice when he had the opportunity to soapbox about his vaccination status during media day and his overall history of strong distaste for reporters as a whole.
Nonsense indeed. Now is when the work will begin if Irving is serious about making this a movement. The Nets are moving on without him. Will he get the jab or get left behind? It's all up to him, as it always has been.