Stephen A. Smith Wants to Know What the Hell Happened to Ben Simmons' Back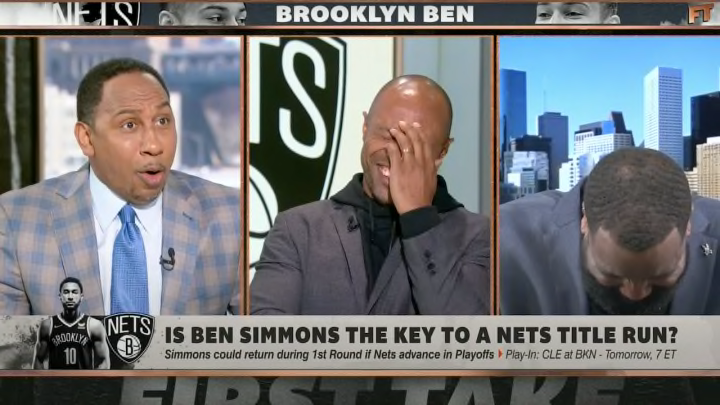 The Brooklyn Nets play the Cleveland Cavaliers in the first night of the NBA's play-in tournament on Tuesday. Ben Simmons will not play and there are conflicting reports about whether or not he will be available to the team should they advance to the traditional NBA Playoffs. After sitting out 10 months, Simmons is dealing with a back injury and Stephen A. Smith wants to know what the hell happened. Smith first questioned the circumstances surrounding Simmons' back injury on Get Up this morning.
Later this morning he made the same points on First Take, but really ramped up the histrionics for a more accepting audience of Kendrick Perkins and Jay Williams, who both doubled over in laughter once Stephen A. really got going.
Reactions aside, Smith covers a lot of ground here. He thinks the Nets can make the Finals if Simmons is healthy and able to contribute, while simultaneously admitting that he can't and won't shoot the basketball. Plus, Simmons' mysterious back injury is very perplexing! How do you have a healthy back before you take 10 months off and then you have an injury so serious that you are working to strengthen your legs and back?
Seems bad! So who knows when we'll see Simmons on the court again because this sure sounds like the kind of thing that could be re-aggravated or become one of those pesky nagging injuries. And it's OK to speculate about that because no one is giving us any indication otherwise.