Stephen A. Smith to Aaron Rodgers: 'Shut the Hell Up!'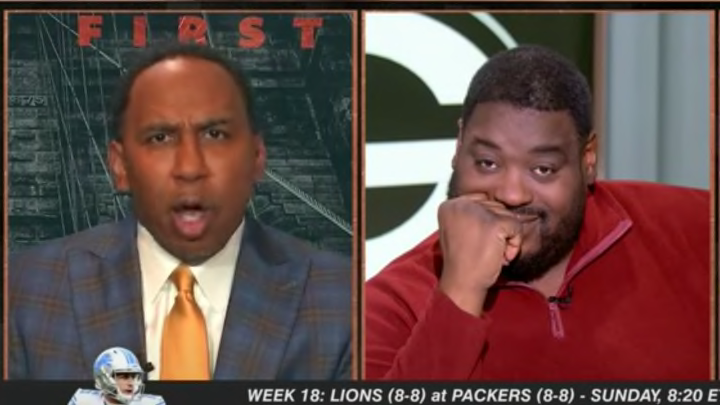 Against all odds Aaron Rodgers and the Green Bay Packers have a shot at the playoffs entering the final week of the season. Green Bay, seen as title contenders before the year, started off 4-8 before ripping off four wins in the last four weeks and now need only one more win to earn a Wild Card spot. While Rodgers has definitely taken a step back from his two MVP seasons over the last two years, nothing will matter if the Packers are there once the postseason starts.
But no matter what happens, Sunday night's matchup against the Detroit Lions will be the last game at Lambeau Field this season. Which means it could be Rodgers' last game at Lambeau ever if he decides to retire this offseason. The future Hall of Fame quarterback was asked about that possibility this week and got reflective. Per the Kenosha News:
"I'm (still) going to take some time after the season," Rodgers said during his usual Wednesday Q&A session with reporters at his locker. "I've got a lot of great memories here at Lambeau — and hopefully can add another one on Sunday."

Asked if he believes any last-time-at-Lambeau thoughts might cross his mind during the game, though, Rodgers admitted they will.

"I mean, for sure, just because you don't know what the future holds," Rodgers said. "But when I think about that, it's nothing but gratitude. Not remorse or sadness, just gratitude for the time that I've been here, the amazing memories that I've had on this field.

"(There's) been a lot of great moments, but (I'm) still undecided (about next season). We're all undecided about the future. (I'm) just going to enjoy Sunday night and hopefully have some more to play for."
For some reason, Rodgers' attitude as displayed above really got to Stephen A. Smith. The ESPN personality is a longtime Rodgers advocate who has been forced to eat crow a lot over the last four months. He absolutely blew up on the quarterback during First Take on Thursday, telling Rodgers to "shut the hell up" and go out there and win the game.
It is... a little unclear what set Smith off like this. Is Rodgers not allowed to adopt a reflective attitude because he hasn't clinched a playoff spot? Engaging but confusing television.