Stephen A. Smith Somehow Offended Beyoncé and Rihanna Fans While Promoting His New Book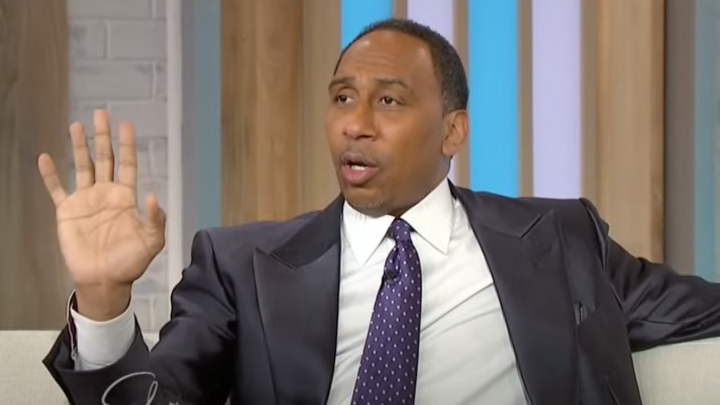 Stephen A. Smith has been everywhere this week. Even more everywhere than the usual everywhere because he's promoting his new book. On Wednesday he was on (at least) The View, Good Morning America, FOX Sports Radio's The Odd Couple, and Hannity. It was so hectic that Mad Dog started screaming at his First Take foil about how he was sick of hearing about the book, but that ended up being the least of his problems as he managed to offend both Rihanna and Beyoncé fans as the day went on.
Smith appeared on Sherri Sheppard's show and was asked about Rihanna's upcoming Super Bowl Halftime Show performance. In one of the greatest unforced errors in human history, Smith said that Rihanna was a lot of things (including spectacular), but "she's not Beyoncé." He immediately lost the studio audience. Sheppard went into protection mode for Rihanna as Smith doubled down in his Beyoncé > Rihanna take like he was back on First Take discussing LeBron versus Jordan.
By the early afternoon his comments had been picked up by the blogs and turned into Internet compost and Rihanna fans were mad. It got so bad that Smith had to record a three-minute apology video while he was being shuttled between television appearances. It could have ended there, but whoever posted his apology editorialized in the tweet saying, Rihanna's "fan base might just be worst than the BeeHive!" Thus, in the process of defending his opinion that both women were good, he implied that both their fanbases were bad. Not to mention misidentified them as the "BeeHive" instead of "BeyHive."
So he deleted that tweet, placed the blame on his management team (unless he was literally dragging MGMT into things now), and reposted his apology video.
This is clearly a corollary to Never Tweet. Do not share opinions on television that you were not asked for. In this case, Stephen A. inserted Beyoncé into a conversation about Rihanna and started comparing them. No one asked him to do this and he had to deal with the consequences of going rogue.
Most importantly, we may have finally found how much Stephen A. Smith is too much Stephen A. Smith for Stephen A. Smith to handle. He's slinging takes about 18 hours a day during a regular week, but adding in the book promo we clearly reach a breaking point. Make a note.