Stephen A. Smith Unable to Recall the Meaning Behind 'TAke a look, y'all: IMG_4346.jpg'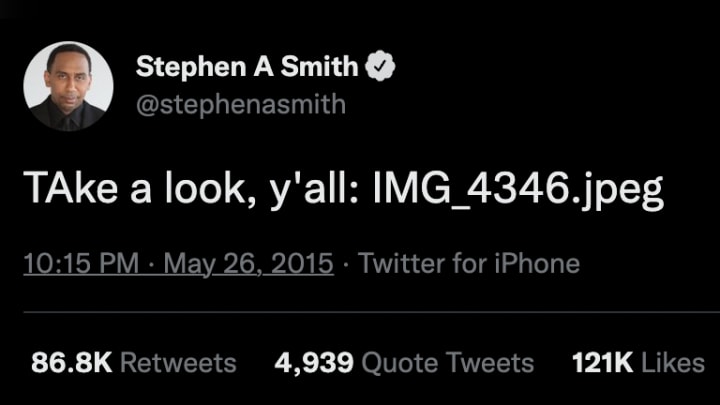 There isn't much argument over the fact that Stephen A. Smith has one of the most entertaining personalities in sports over the last decade and as such, everything he says on television or sends out online is eagerly consumed and analyzed. Picking out the few memorable moments that rise above the others is a difficult task. Still, most would agree that this tweet, sent exactly seven years ago, belongs near the top of any list.
Its meaning has eluded the most dogged of scholars. But even the deepest researched has only exasperated the many questions. What were we all supposed to take a look at? What image was saved on his computer as IMG_4346.jpeg?
We here at The Big Lead have been on the case since Day 1. And all our work means nothing now because he simply tweeted out the answers. Turns out that Smith doesn't know any more than the rest of the perplexed masses.
Points for honesty, and for finally addressing the issues. But it's still a bit disappointing that this mystery will go unsolved. Though, there's enough rich text for an explorative podcast if someone has the time to create 8-10 episodes about it. They will surely be rewarded with dozens of downloads.