Stephen A. Smith: Mark Davis Gave 'The Dumbest Quote I've Ever Seen From an Owner' About Josh McDaniels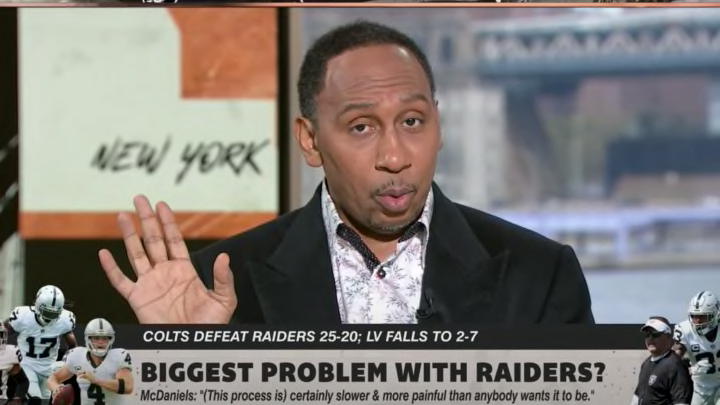 Stephen A. Smith /
After the Las Vegas Raiders lost to the Indianapolis Colts on Sunday, the security of Josh McDaniels' job was called into question. The logical mind understands that there's nearly no chance McDaniels gets fired merely nine games into his first season as head coach in more than a decade, especially after the turmoil the franchise has gone through in the last year. But the emotional mind sees McDaniels lose to Jeff Saturday, a media member converted to head coach, in the middle of a season filled with awful losses and wonders how anyone could possibly justify keeping McDaniels employed.
Team owner Mark Davis is apparently not deaf and responded to the noise by handing out quotes to a few media members expressing his utmost confidence in McDaniels to lead this team. In this excerpt from ESPN, Davis preached patience as building a good team takes time:
Asked about giving a vote of confidence to McDaniels, who was hired in January, Davis said that happened when he signed him to a deal.

"I gave him my vote of confidence when I signed him to a contract to be coach of the Raiders. That's when I gave it to him," he told ESPN.

Davis added: "Rome was not built in a day."
That sentiment would hold more water if McDaniels was taking over a bad team in need of a rebuild. Which is, um, not the case here. The Raiders went to the playoffs last season despite the Gruden debacle. The fact that McDaniels has a playoff roster sitting at 2-7 is malpractice. Telling fans Rome wasn't built in a day comes across as rather disingenuous when context is considered.
Stephen A. Smith agrees with that school of thought and went even further on First Take today. Smith said the comments were "unquestionably idiotic" and the Rome quote in particular was the dumbest he's ever heard from an NFL owner.
It was a pretty tone-deaf phrase to use by Davis but hearing the above segment makes one wonder if Stephen A. has ever heard Jerry Jones speak. That man says a lot of dumb stuff.
Anyway, Raiders fans who are calling for McDaniels' head were always going to be disappointed. Perhaps a more tactful angle by Davis next time will prevent everyone from getting mad at him, too.