Stephen A. Smith Got Very Mad on 'First Take' About Lonzo Ball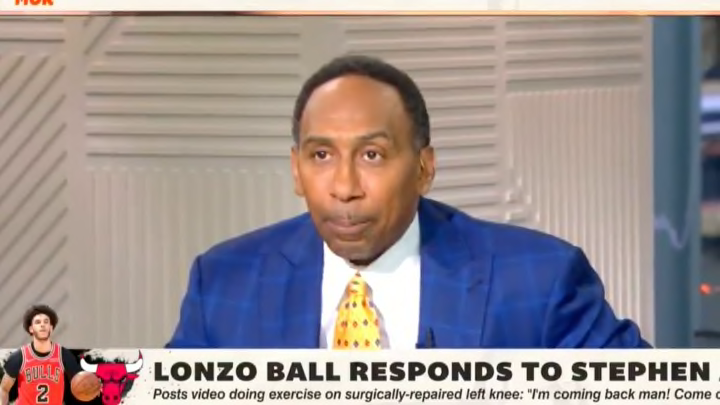 Stephen A. Smith /
Yesterday, Lonzo Ball and Stephen A. Smith got into a bit of a tiff. Smith reported on ESPN that Ball's knee injury, which will hold him out for a second consecutive year, is so debilitating that the former No. 2 overall pick is having trouble standing up after sitting down. Ball heard about it and responded by posting a video of himself doing just that while yelling at the camera that Smith needs to "stop yapping" and that he's definitely coming back.
This apparently pissed Smith off mightily, to the extent that he took time out of First Take to respond directly to Ball and all the "idiot trolls" who piled onto the drama in the aftermath. Here's Smith getting pretty mad about the whole thing, yelling that Ball still isn't actually healthy.
It seems like Smith actually got worked up for the first half of this clip. He shouts all the time but it's part of the performance. This felt a little more real.
And for what reason? As Smith himself admits Ball isn't claiming he's healthy enough to go on the court. Smith just sort of brushes aside how someone might've "exaggerated" how bad his knee was, which is presumably what led to the report that sparked all this off. One might think his vitriol is better directed at that guy or gal rather than Ball.
Honestly it seems like he's just mad that a bunch of people leapt at the opportunity to mock him. Which is fair. But that's part of the package when you're dealing in inside information. Yelling about it on TV when you get something wrong does not tend to help matters.