Stephen A. Smith: The Clippers Should Force Kawhi Leonard to Retire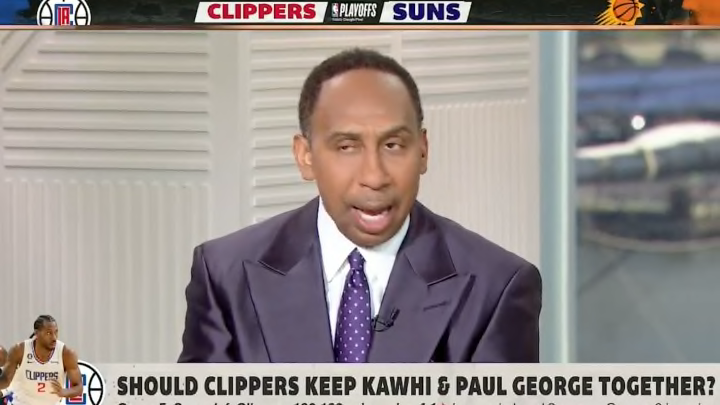 Stephen A. Smith /
The Los Angeles Clippers bowed out of the playoffs early (yet again) on Tuesday night and did so (yet again) without their two highest-paid players. Paul George and Kawhi Leonard both missed the team's season-ending, 136-130, loss to the Phoenix Suns in what has long been a familiar problem for this L.A. squad. Despite their meticulous dedication to load management during the regular season George still got hurt before the playoffs started and Leonard ended up missing the final two games of the series because he tore the meniscus in his right knee.
It has become a yearly exercise. The Clippers have good enough depth and smart enough coaching to qualify for the playoffs, where make things interesting, but their stars are just never healthy at the same time. George and Leonard have not played in the postseason together since 2021. This is no superteam; it is the idea of a superteam that we will never see come to fruition at this rate.
Stephen A. Smith touched upon that issue during Wednesday's First Take and banged the drum for Leonard to just retire for the second time in five days. He first declared Leonard should do everybody a favor and just retire already on his podcast released shortly after news broke that the superstar was hurt again. Today he said the Clippers need to force Leonard to retire because otherwise he'll continue to drain money from the cap sheet and never deliver on what was promised. It sounds like he did this before learning that Leonard was diagnosed with a torn meniscus but it is unlikely that would've changed anything about the diatribe. In fact, it probably would've given Smith more juice.
Obviously shocking that we'd ever say this about Stephen A. Smith but, uh, this all seems a little dramatic! Smith just seems mad that Leonard got hurt again, which is a little weird. If he was advocating for the Clippers to do the right thing and force an oft-injured player to consider hanging them up before his issues become lifelong, that would be one thing. That is not what's happening.
It sure is frustrating for basketball fans to watch Leonard give glimpses of the monstrous player he was before getting hurt again. It is probably infuriating and devastating in equal measures for the Clippers to watch this happen over and over. But it isn't our money and most fans would prefer the chance of seeing Leonard again rather than the certainty of never seeing him at all, even with the few peaks and many valleys that accompany his presence on the basketball court in recent years.
It will be a bummer the day Kawhi retires. The Clippers should not be in any rush to force that day to arrive sooner than it should because what other option do they really have?