Stephen A. Smith Voted Joel Embiid as MVP Because of Zoolander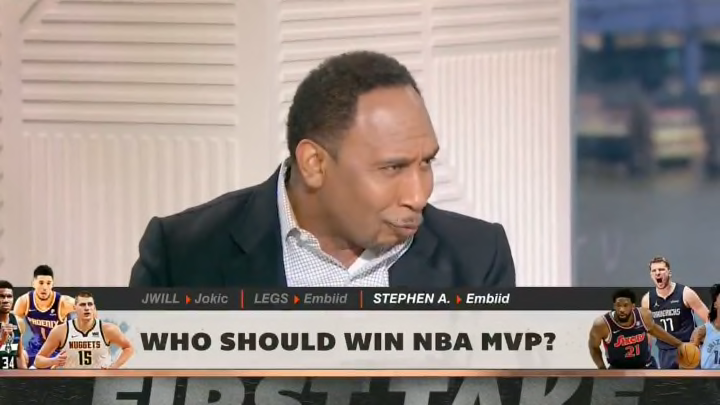 Stephen A. Smith /
The end of the NBA regular season took place on Sunday which means the last few days have been about tallying votes for regular-season awards. Most Valuable Player is dominating the discussion, as it often does. There is no clear-cut winner this season. In fact, it's a rather contentious race.
The three front-runners are Nikola Jokic, Joel Embiid, and Giannis Antetokounmpo. Each represents a different facet of the standard MVP argument. Jokic is setting records in the advanced stat department and carried the Nuggets to the playoffs despite missing both his best and second-best teammate due to injury. Embiid led the league in scoring and had a healthy chunk of the monstrous performances we'd expect from an MVP-level player. Giannis' team has the highest seed of the three options here and put up his usual absurd numbers while playing DPOY-caliber defense yet again.
Stephen A. Smith, one of the media members selected to vote in this year's process, explained on First Take this morning that he voted for Embiid. And his motivation came from ... Zoolander.
In short: Ben Simmons' outfit on the sideline of yesterday's play-in game between the Nets and the Cavaliers reminded Smith that Embiid not only fought through one of the more difficult situations in the NBA, but actually thrived.
For reference, here is Simmons last night.
Smith certainly has a point on the Zoolander front, doesn't he?
It's tough to really go wrong this year. Jokic has been historically productive. Embiid has been an unstoppable monster more nights than not and is the first true big man to lead the league in scoring in years. Giannis is Giannis, putting up 29 and 11 on good shooting splits while playing out of position for most of the year after Brook Lopez got hurt.
Smith found inspiration in classic Ben Stiller content. We'll see if others did the same.