Stephen A. Smith: Knicks Will Take Jimmy Butler Down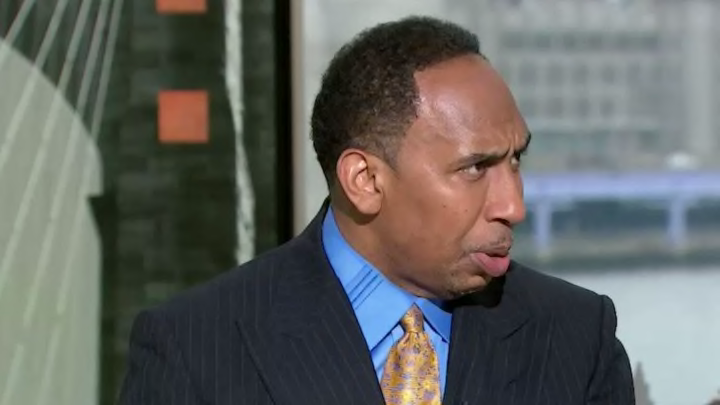 Jimmy Butler has been so good this postseason and in previous postseasons that the defending champion Milwaukee Bucks are now making unexpectedly early tee times and grown adults are saying "Himmy Butler" without melting in shame like a recently doused Oz witch. His next challenge will come in the form of the New York Knicks as the renewal of a classic 1990s rivalry gets millennials all hot and bothered.
Full-time entertainer and part-time fan Stephen A. Smith has a bold prediction for this round and it's going to send Parakeet Cortes into a blind fit of rage.
"New York's a different animal, baby," he said. "When you come to the Garden, it's a different stage. And Jimmy's been on a lot of stages. Hell, he went to the Finals — that was in the bubble. He was in the Eastern Conference Finals last year. But when you come to the Garden, it's a different building."
Smith was then asked by Molly Qerim if he believes Butler is intimidated by the most famous arena in all of sports which has been so intimidating to its own inhabitants that they haven't won anything in forever.
"We're going to find out ... All I'm trying to say to you us this: there's a reason to fear Jimmy Butler but that will only elevate the level of focus and tenacity and commitment that's necessary to take him down. And he will go down in this series."
Alright, all credit as always to Smith here because the delivery is pretty amazing. Something about it makes me want to commit my life and all my savings to a megachurch.
But strip away all the style and you're left with the substance which is essentially saying Garden, Garden, Garden over and over again. That really hasn't done anything for the Knicks since Butler himself was playing Nintendo 64.
We've seen the way the streets of Manhattan have turned into chaos when the neighbors win a single playoff contest so it's no surprise that fervor and optimism is running hot.
There's just one flaw in the logic, though. Of all the athletes currently playing professional sports, Butler might be the most robotic and unbothered by the biggest moments in comparison with his regular-season self. So there's a very real chance that playing in the shadow of Broadway will only cause him to craft a more amazing story.
Miami is more experienced. They just won two road games against a better team. They have a more relevant culture than the ghosts that bop around the rafters at MSG.
Smith's playing a dangerous game. It's the only one he knows how to play.