Stephen A. Smith Lists His Favorite Sex Songs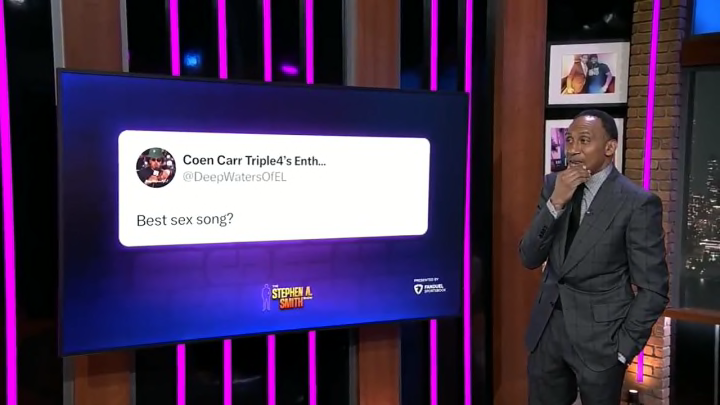 Stephen A. Smith was on a heater Wednesday night. He asked viewers to sent him questions to discuss on The Stephen A. Smith Show and boy, they did not disappoint. One fan asked Stephen A. what the best sex song was. ESPN's cornerstone followed through in tremendous fashion, not giving just one, but a whole host of songs. And then some advice. It was fascinating ... and slightly uncomfortable.
Here's what Stephen A. had to say:
So for the record that's:
Troop -- "All I Do Is Think of You"
Luther Vandross -- "A House Is Not a Home"
Teddy Pendergrass -- "Turn Off the Lights"
Prince -- "Adore"
R. Kelly -- Pretty much every song in his catalogue, and it's OK now because he's in jail.
Jodeci -- "Cry For You"
And remember, trust him, he gave you a lot of options.
That was just an incredible piece of footage. And I can't believe it actually aired. Just amazing.