Stephen A. Smith Calls Daniel Jones 'Dude' Four Times in Five Seconds While Trashing Giants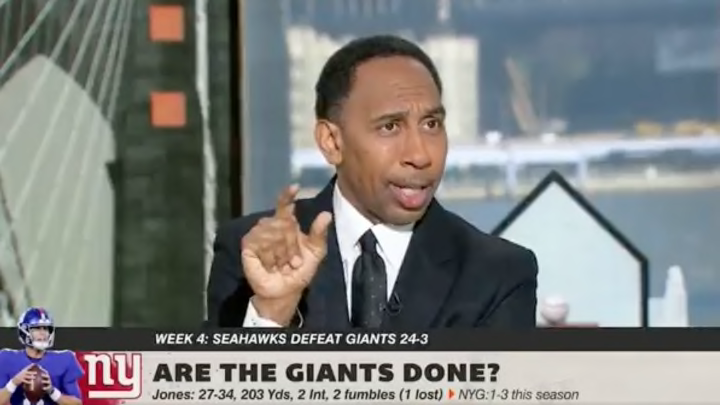 Daniel Jones continued to pilot the struggle bus through the Meadowlands on Monday Night Footbal. Jones completed 27 of 34 passes for just 203 yards and turned the ball over three times while leading the Giants on just one scoring drive for three total points.
With Week 4 now complete we can report that Jones is 30th in the NFL in yards per pass attempt, 27th in QBR, 33rd in passer rating, has been sacked the second most times in the league and is tied for the most interceptions thrown. The Giants are dead last in scoring and 31st in offensive yards.
With all that in mind, here's Stephen A. Smith making the case that the New York Giants season is over while really only focusing on one number: Daniel Jones' salary.
"They got no shot. The season's over. They are horrible. There's no doubt about it and it starts with Daniel Jones. $160 million contract. That dude's 40 million dollar a year dude. That dude. This dude, right here right now, OK? $92 million guarunteed. Cuz I had to pull up the numbers."
Smith chalked it up to Jones getting the bag and then forgetting what got him there, but Jones is actually 29th in the NFL in rushing right now. His ability to run seems like the thing that makes him the most valuable and he still has to do that. It's everything else that he's struggling with.
Even as a rookie, Jones only threw 12 interceptions. He's halfway there a quarter of the way through the season. And he's already fumbled four times after fumbling just 13 times in the previous two seasons combined. It seems Jones procured the bag and proceeded to stop protecting the football.