Stephen A. Smith on Ben Simmons: 'Ain't Nobody Asking You to Go On the Front Lines in Ukraine Against Russia!'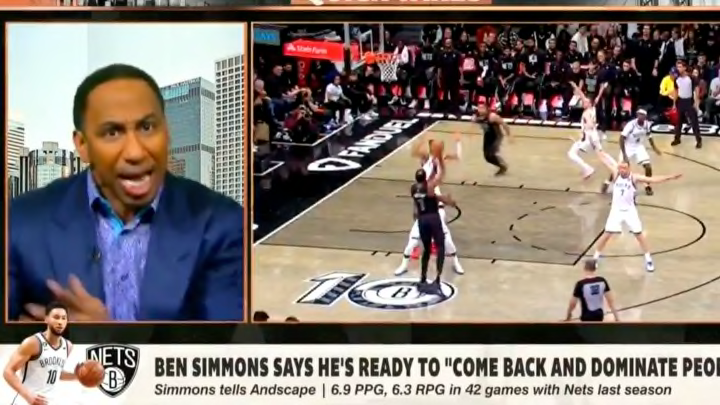 Stephen A. Smith /
Ben Simmons' name was back in the news yesterday thanks to a lengthy one-on-one interview he did with Marc Spears for Andscape. Simmons has not been effective on a basketball court for over a year thanks to a back injury (and the whole Philadelphia 76ers thing) so this interview was the sort of I'm Back piece that most athletes returning from turmoil like to do. One person in sports was not happy to see his name again, though: Stephen A. Smith.
Smith blew up on Simmons during First Take today. The premise of his rant is that he is sick and tired of seeing Simmons' name and hearing about the struggles he's gone through in the last 12 months. In Smith's opinion Simmons needs to shut up and show up and stop talking. Which is a fair viewpoint, but then Smith went above and beyond the call of duty by bringing up the Ukraine-Russia conflict for reasons we don't really understand.
Again-- it's fair to be tired of Simmons. I sure am. His news cycle has been going on for a year and stopped being interesting like eight months ago. Hearing about how he's ready to get back to work for the fifth time since being traded to the Brooklyn Nets is getting annoying. But, you know, it's not that serious.
A good rant by Smith if anything, though. Got to give props.