Stephen A. Smith: Baker Mayfield's Career is in Jeopardy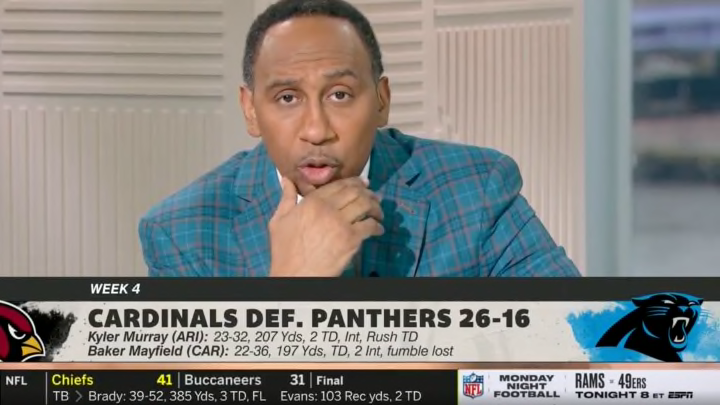 Stephen A. Smith /
The Carolina Panthers fell to 1-3 on the year this past Sunday, dropping a home game to the Arizona Cardinals by the score of 26-16. Baker Mayfield was a primary reason for the loss. He played quite poorly, completing only 22 of 36 passes for 197 yards and one TD to go with two interceptions and a fumble. He looked worse than his statline, if you can believe that.
Mayfield's redemption tour has been a complete failure so far. Yeah, he hasn't been dealt a stellar hand given Matt Rhule is his coach, but the former No. 1 overall pick is missing easy throws and making awful decisions. The guy who led the Browns to their first playoff appearance in a decade is nowhere to be found.
Stephen A. Smith addressed Mayfield directly on First Take and said he's played so poorly his career is in jeopardy.
Saying his career is in jeopardy is a bit of an overstatement if only because there are not 32 competent quarterbacks in the NFL and so every year there will be a handful of teams willing to take a flier on guys exactly like Mayfield in hopes he'll be different in their system with their coaches. Mayfield could get benched for Sam Darnold later this year, end up in free agency, and still get signed by somebody. We're still years of poor play away from there being zero suiters for Mayfield's talents across the NFL.
But, um, yeah, he's been that bad. It's hard to pinpoint why, which is the most concerning part. If the offensive line was consistently terrible or he had no good skill position players or if the scheme was so obviously detrimental to his style that it would be impossible for him to succeed, then there would still be some optimism. But none of that is true. He has simply stunk. And hope is dwindling for Mayfield to turn it around.