Stephen A. Smith Mocks Idea of Anthony Davis Getting a Concussion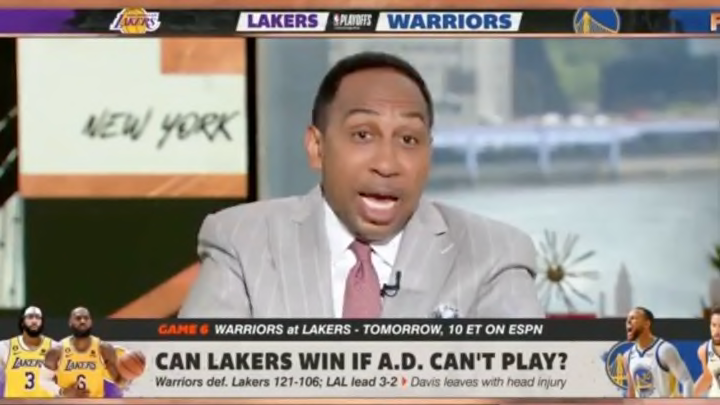 Stephen A. Smith /
The Los Angeles Lakers lost Game 5 to the Golden State Warriors last night and more problematically watched as Anthony Davis exited the contest with an injury. The superstar big man took a hard elbow to the face from Kevon Looney and exited soon after. At the time it appeared that Davis may have suffered a concussion on the play, a theory that only gained steam after TNT reported he needed a wheelchair to get back to the locker room after leaving the court.
A couple hours after the game ended TNT reported that the Lakers believe Davis avoided a concussion, which seems somewhat unlikely but today and tomorrow will give us the truth of the matter. In the meantime, AD's latest ailment serves as prime fodder for Thursday's blocks on the talk shows. Stephen A. Smith's chosen angle on the situation was to laugh about it quite a bit on First Take and mocked the idea that a basketball player can get a concussion.
It was not a good look, regardless of whether Davis is concussed or not.
I am struggling to understand what Smith cannot grasp here. You don't need to get hit by a 280-pound defensive lineman running at full speed to get concussed. Concussions are not unique to football. On top of that we probably all know people who have suffered a concussion in a non-football activity. In fact, it is actually very likely that most concussions do not happen on a football field. If the brain gets knocked around, a concussion could happen. And Davis definitely got hit hard enough that a concussion is not out of the question at all!
Pretty baffling segment here. Concussions aren't funny, as Molly Qerim attempted to point out before Smith cut her off. And it's not really that funny that a non-football player could suffer a concussion. I am not trying to be the joke police. I am legitimately asking where the joke is.
Say what you want about Stephen A. Smith but most of his segments make some sort of sense, even if you vehemently disagree with him. This makes zero sense at all and comes across as pretty shitty on top of it all.
UPDATE: Smith responded to the criticism he received for this segment in a tweet and apologized.