Stephen A. Smith: Blame Jimmy G if the 49ers Don't Make the Super Bowl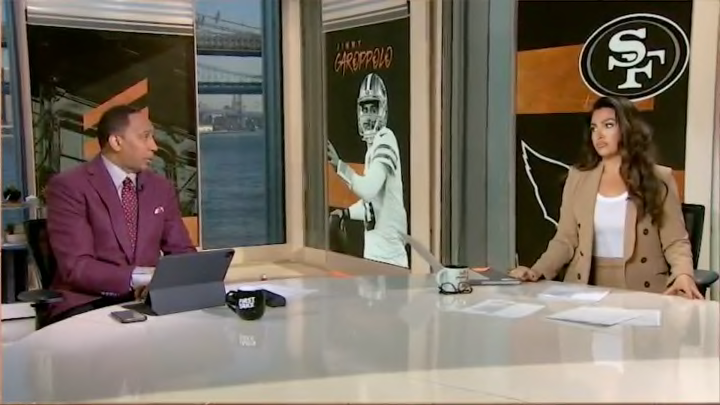 The San Francisco 49ers are coming off a dominating performance on Monday Night Football. Quarterback Jimmy Garoppolo completed 20-of-29 passes for 228 yards and four touchdowns. Yeah, there was a lot of YAC involved, but somebody had to shovel the ball out into the flat. Were you going to do it? I didn't think so.
Today on First Take, in the wake of the big Niners win, Stephen A. Smith explained how Jimmy G could be the reason San Francisco doesn't make the Super Bowl.
The obvious thing here is that Jimmy G has in fact quite literally taken the 49ers to the Super Bowl. Did he only have to complete six passes on eight attempts in a blowout win over Aaron Rodgers in the NFC Championship? Yes, but he got them there! And then Jimmy G and the Niners had a 10-point lead over the Rams entering the fourth quarter of the most recent NFC Championship Game. So close!
So he's made it once and been very close another time. And they look like they could get there again. My question is, if he's going to take the blame if they don't, does he get credit if they do? Just wondering.