Steelers Hit With Absolutely Horrific Roughing the Passer Penalty on Big Trevor Lawrence Hit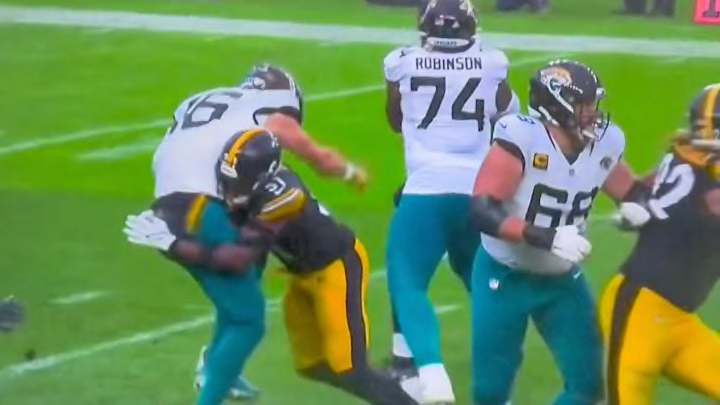 Trevor Lawrence /
The Pittsburgh Steelers hosted the Jacksonville Jaguars today and it didn't take long for the officials to make their mark. The Jags were up 3-0 while Kenny Pickett and the Steelers' offense struggled to get going. Trevor Lawrence dropped back to pass and found a wide-open Christian Kirk down the field for a 29-yard gain. They then got a free extra 15 yards thanks to a truly horrific roughing the passer penalty on Steelers defensive back Keanu Neal.
Neal blitzed from the secondary and had a wide-open lane to Lawrence. He drilled the Jacksonville QB right as he released the ball and made a form tackle. Led with the shoulder, no helmet contact, and he did not "put his weight" on the quarterback or whatever the terminology is nowadays for landing on the QB.
Yet a flag was still thrown. Absolutely ridiculous.
As the saying goes, however, ball don't lie. Five plays later the Jags fumbled on a trick play and the Steelers recovered. No ill-gotten gains for Jacksonville this time.
Not that Pittsburgh did anything with it. Pickett led the offense to their fourth consecutive three-and-out after the fumble recovery. Everything evens out in the end, but what a terrible penalty.