Kenny Pickett Injured After Spinning Right Into Awkward Sack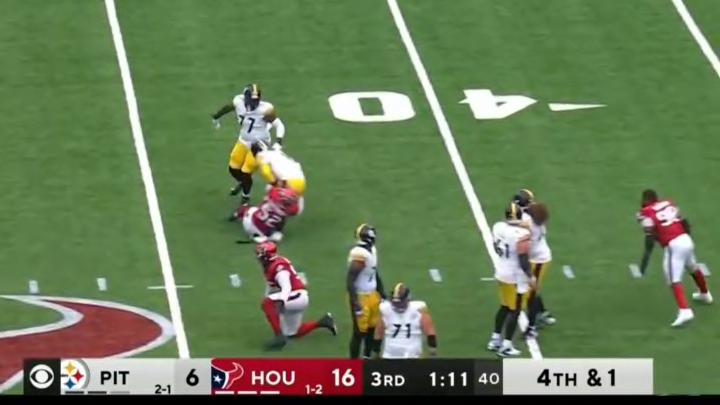 Steelers-Texans /
The Pittsburgh Steelers' miserable season got measurably worse against the Houston Texans on Sunday afternoon. Down 16-6 (to the Texans!!) late in the third quarter, the Steelers decided to go for it on a fourth-and-1 near midfield. Kenny Pickett, who has been struggling in his sophomore season, dropped back to pass. He quickly bailed out of the pocket and spun right into defensive end Jonathan Greenard.
Greenard brought Pickett down with a pretty awkward tackle that appears to have twisted the quarterback's knee. He remained down on the field before limping off.
Pickett was declared out almost immediately with a knee injury. Mitch Trubisky came in to replace him. To that point Pickett had completed 64 percent of his passes for 114 yards with no touchdowns and one interception. A bad day for the Steelers overall just got a whole lot worse.
Awful stuff. Hopefully the injury isn't as bad as it looked.