Steelers Fan Slaps Jaguars Player After Stealing Terrible Towel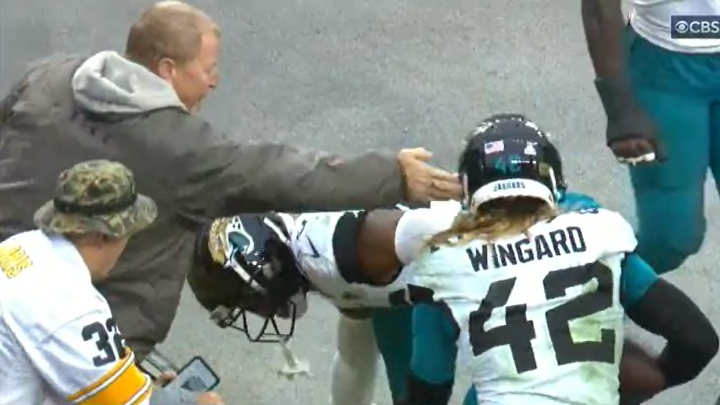 The Jacksonville Jaguars went in to Pittsburgh and beat the Steelers 20-10 on Sunday, improving to 6-2 on the season. While the win was a big deal, the Jags caused a stir on the Internet for another reason. Several of their players grabbed Terrible Towels from fans and one got slapped on the helmet for his trouble.
The incident came early in the fourth quarter, when Jacksonville safety Andrew Wingard intercepted at Mitch Trubisky pass. As Wingard and his fellow defender celebrated, he snagged a Terrible Towel and waved it around. A fan smacked him as he did
Here's the interception:
And here's the incident in question:
Steelers fans were not happy about this and flooded social media to complain about it. But, frankly, this is pretty harmless, as is the slap. All really stupid, but ultimately harmless.
The Jags look like a rising power in the NFL, while the Steelers fell to 4-3 and have serious questions on offense.