This Dave Helman Guy Is A Hero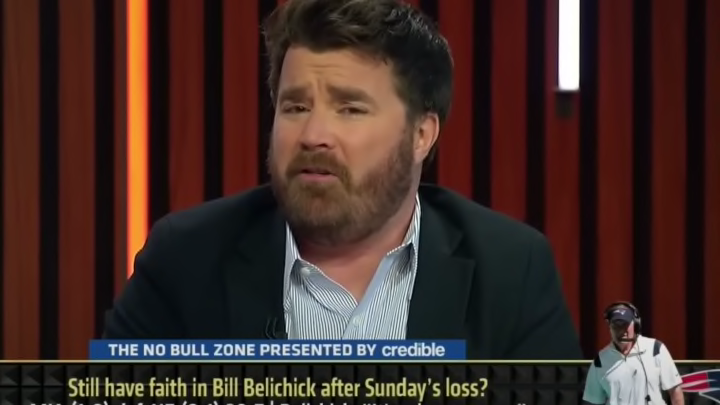 FS1 launched its new show Speak recently with Joy Taylor, Emmanuel Acho, and LeSean McCoy getting top billing but it's the fourth member of the table who has captured our attention for what can only be deemed a heroic performance during a segment a few days ago asking if everyone still had faith in Bill Belichick. The Fox Sports Dallas Cowboys insider has to this point escaped the watchful gaze of this here blog but it took all of 80 seconds from his introduction to establishing himself as the exact pundit we'd all be willing to run through a brick wall for if he's going to keep it up.
"Yes, yes I do," Helman said when confronted with the bizarre topic. "Like, what is, what are we doing here? Have faith in Bill Belichick to do what? Like, have faith in Bill Belichick to still have an amazing résumé? To turn the season around? To keep coaching? Like, more specifically, if you don't mind because did you see the Patriots being a playoff team? I didn't."
Acho clairified the issue up for inspection: "Do you have faith in Bill Belichick to look competent with the Patriots organization?"
"Yes, yes, I absolutely do," Helman said.
Then, sensing McCoy was sitting on a monster take hand with his pocket cards, Helman pointed out that post-Tom Brady the most decorated NFL coach in history has gone 7-9 one year and made the playoffs with a rookie quarterback the next.
McCoy would soon say it was over for Belichick. Just like that, after a quarter-century of greatness based on Week 1 against the Dolphins in Miami, which has long been a house of horrors for the Pats even with Brady.
"What has happened that my faith should be shaken?" Helman asked.
Look, New England is crushing for some pretty regular bruising this season and we've been wondering aloud if the Hoodie wants to spend the twilight of his career watching the most meaningful games of the year from an elimination couch. But if one can't have faith in Belichick, who can they have faith in?
Is the bar for debate so low that we can allow general consensus from a mid-September afternoon show to announce that Bill Belichick of all people has lost his team? No, dammit. We're living in a society. And Helman, bless his heart, is there to keep some of the much-needed guardrails.
We simply have no choice but to stan. And stan harder if he's going to be entirely reasonable.