Skip Bayless Claims Zion Williamson's Stepfather is Clashing With Pelicans Front Office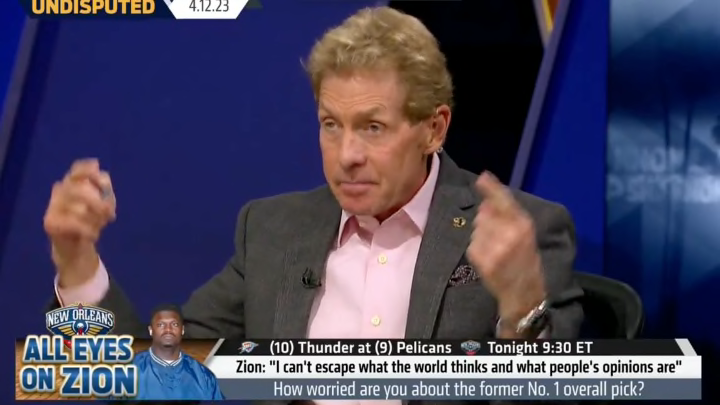 Skip Bayless /
The Zion Williamson situation took a weird turn yesterday. The injury-prone superstar spoke to the media for the first time in months this week and said the hamstring injury that has kept him sidelined since January 2 is entirely healed but he is not fully back to being Zion. He won't play again until he feels like Zion. A well-intentioned individual could read this as Zion basically admitting he's rusty after over three months of no basketball and doesn't want to make any game-changing mistakes as his team fights for their playoff lives in the play-in tournament. A less generous soul could read this as Zion admitting he's healthy but refusing to play because the New Orleans Pelicans are the No. 10 seed as of today and there's no point in risking re-injury at this point in the year.
Regardless of what he actually meant, it was a bizarre quote to give to the press and the exact type of fodder that will be microanalyzed on all the talk shows the following day. Skip Bayless did that and more on today's Undisputed as he tried his hand at insider reporting, saying he heard (among other things) that Zion's stepfather is clashing with the Pelicans' front office about pushing him to return to play as the team medical staff and Zion's medical staff tell him two different things.
"Team management is increasingly at odds with Zion's stepfather, who is sort of running the show on the Zion camp. They just believe the stepfather, with the advice of the medical people on their side, are holding Zion back from playing. The stepfather is increasingly unhappy with the team because it continues to exercise the clause in his contract that, on a monthly basis, they can weigh him."
Bayless went on to say he'd been told that Zion's teammates are also unhappy and generally paints a picture of a dysfunctional environment in New Orleans right now.
Acknowledging that Bayless is not super plugged into the Bayou sports scene and he generally has a spotty track record with inside reporting as the Undisputed host rather than a reporter, the stepfather stuff is really specific! That doesn't make it true but it often feels that the more specific a report is (and the weirder the details included), the more likely it ends up being true.
Regardless, this whole thing is starting to give off some serious Kawhi Leonard in San Antonio vibes. We even have a shadowy familial figure operating in the background spoken about only in hushed tones to the public! What's Uncle Dennis up to these days?
Who knows if it'll end up the same way but it all feels pretty weird, man.