The Last Skip Bayless-Richard Sherman Debate Was a Trainwreck, Caused Bill Simmons to Get Suspended From Twitter
Looking back at a crazy 2013 First Take episode.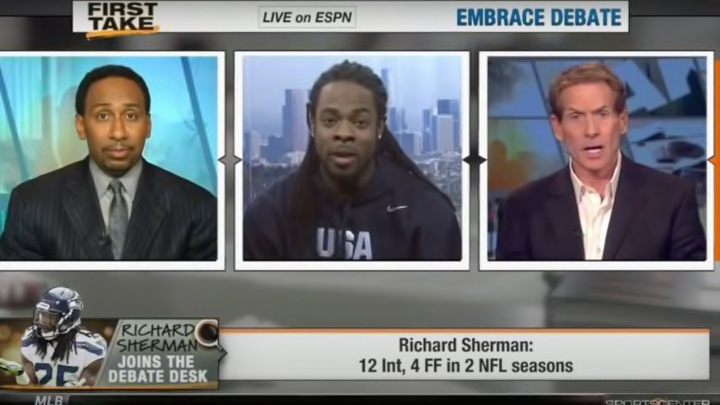 As speculation about Skip Bayless' next partner on Undisputed grows, the New York Post's Andrew Marchand threw a new name and wrinkle into the mix yesterday by reporting Richard Sherman is a candidate to slide into Shannon Sharpe's empty chair. That would certainly be a juicy acquisiton and not one that would demur to Bayless at all, which many believe the new person would be forced to do. We know this because Sherman and Skip have a bit of a history and once met for one of the tenser moments in First Take history.
Back in March 2013 the then-Seattle Seahawks cornerback stepped into the belly of the beast and sat down next to Bayless and Stephen A. Smith. He had a lot on his mind but the main objective seemed quite clear. To destroy the person who had been criticizing him. Here's a look back at the spicy encounter.
Sherman told Bayless that the pundit had never accomplished anything and that he was better than him. Smith found himself in the rare position of being caught on his backfoot and tried his very best to broker some sort of peace accord, but those talks never got too far down the line. My blogger brain has been fried by too much content in the decades since yet I clearly recall how big of a deal this was at the time and how it dominated a much smaller sports-media space.
Everyone was talking about it, including Bill Simmons who was still very much part of the ESPN family at the time. The Sports Guy sent out a few tweets categorizing the exchange as "awful and embarassing" while correctly pointing out that no one won. This earned him a Twitter timeout from management, which wouldn't be the last time he clashed heads with the suits in Bristol.
Ironically enough, Smith was a guest on Bill Simmons' podcast a few days ago and they discussed the incident.
"They were like, you can't tweet about another ESPN show, you moron," Simmons said. "I was like, you're right, I shouldn't have said anything."
Sherman getting floated out there is really interesting because of the shared past. One could see how that is a feature and not a bug. It's not difficult to imagine the two having a tense but compelling chemistry. If they were to occassionally blow up, well, that's good for ratings. All in all it seems like a somewhat inspired, if risky idea. As agents of chaos we don't feel bad about wanting to see it happen.