Skip Bayless: Michael Jordan is More Skilled Than Kevin Durant and Kyrie Irving Combined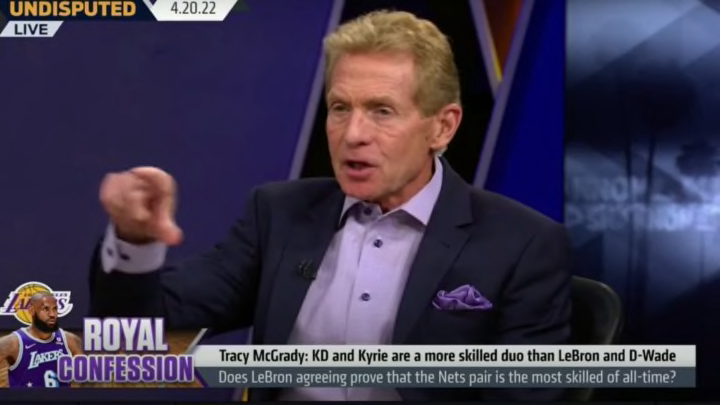 Skip Bayless /
The tremendous skills of Kevin Durant and Kyrie Irving were on full display on Easter Sunday as they took on the Boston Celtics in the first game of their postseason run. Irving blew up, hitting 12 shots on 20 tries for 39 points and single-handedly dragged the Brooklyn Nets back from a 15-point deficit in the second half. Durant had an uncharacteristically off night but still hit his usual array of downright preposterous shots over the Celtics' suffocating defense.
Despite all that, the Nets still lost. But it was the strongest reminder to date of how electric the pairing is when they're locked in and sharing the court. Tracy McGrady appeared on Shannon Sharpe's podcast to talk about the game on Tuesday and was so impressed he declared that KD and Kyrie are a more skilled duo than both LeBron/D-Wade and Jordan/Pippen. Not necessarily better, but more skilled. LeBron and Wade saw the comments and chimed in to say they agreed.
Predictably, Skip Bayless had some thoughts on the comparison to Michael Jordan and Scottie Pippen. He didn't even need to get to Pippen. Bayless said on Wednesday's Undisputed that MJ is more skilled than Kyrie and KD... combined.
Yet again, Bayless goes above and beyond what we believed to be possible when it comes to the defense of Michael Jordan. It is okay to admit that Jordan couldn't dribble like Kyrie or hit the same degree of high-difficulty shots with the same consistency as Durant. Jordan has more rings than both of them combined so what should his fans care about the ambiguous concept of skill on the court?
Imagine the kind of player that would emerge from actually combining the skill of Durant and Irving, though. What a beast of a player that would be.