Latest NFL Leads
Skip Bayless Stunned at 'Audacity' of Mac Jones Trademarking MJ10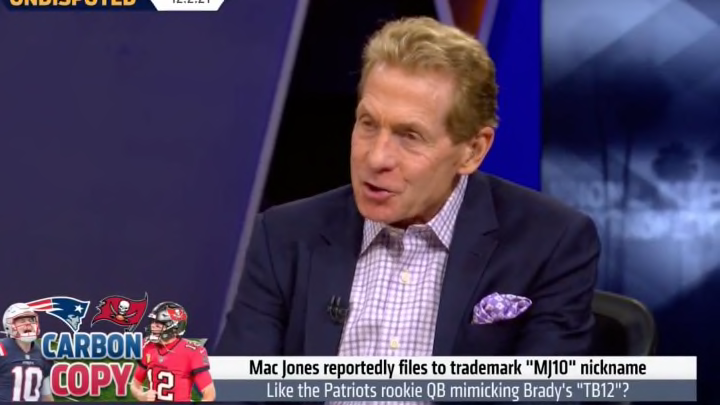 Skip Bayless /
Mac Jones' rookie year has been stellar thus far. The first-year signal-caller has helped lead the New England Patriots to six straight wins and an 8-4 record after a 2-4 start. He hasn't been asked to do everything, but he's done more than enough, and in recent weeks has taken big strides in the passing game. He was rewarded today with an AFC Offensive Rookie of the Month award for November.
Jones rewarded himself for his play by trademarking "MJ10" as his new brand name. Trademarking stuff like that is all the rage in sports nowadays as players try to make coin on the side by selling their own merchandise separate from team stores. There is, of course, the obvious similarity between MJ10 and TB12. And MJ10 is a pretty lame brand name for a guy named Mac. But there are admittedly limited options for Mac merchandise that isn't already trademarked (Big Mac, etc) so we can all agree he did his best.
Skip Bayless, however, is stunned at the "audacity" the young QB has for doing this halfway through his rookie season.
Bayless is mostly being tongue-in-cheek here, especially the bit about Michael Jordan being the only true MJ, but that's part of Bayless' game. He says outlandish stuff every day to the extent nobody can really tell whether he's joking or not, even on a light topic like this.
MJ10 isn't great, but who knows. Everyone in New England thought TB12 was lame and now it's a borderline household name in NFL homes. Fame and success can make almost anything cool.