Skip Bayless Looks at LeBron's 20-Rebound Game, Asks Why LeBron Doesn't Get More Rebounds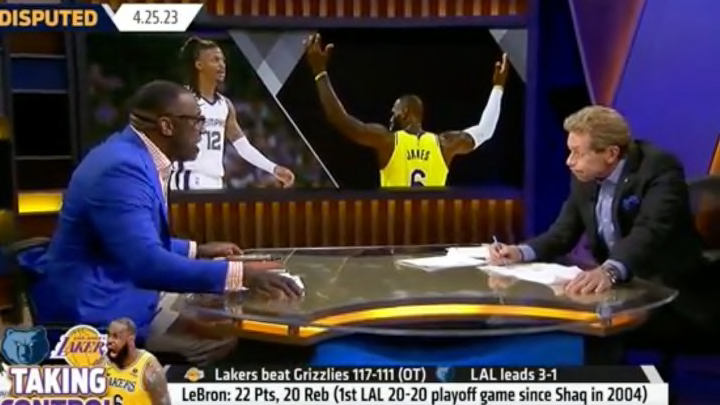 LeBron James had 22 points and 20 rebounds in the Los Angeles Lakers, 117-111, win over the Memphis Grizzlies on Monday night. The 20 rebounds were a career-high for James who is also currently leading all players in postseason rebounding with 13 per game. In the wake of this performance, Skip Bayless went on Undisputed and asked Shannon Sharpe, why doesn't LeBron James rebound more?
As far as Skip Bayless goes, this bit was inspired. Skip reads all the stats from the game pointing out how many missed shots - and thus potential rebounds - there were and notes that LeBron James is 6-foot-9 and can jump through the roof. So why does he only average 7.5 rebounds a game?
It's just an incredible question to ask about someone who has the 32nd-most rebounds in NBA history. Sure, he has more rebounds than David Robinson and Ben Wallace and Bill Lambeer and Larry Bird, but why doesn't he have more rebounds?
And come to think of it, yeah, he's the NBA's all-time leading scorer, but he's only averaged 30 three times in two decades? He's quite tall and athletic. Seems like he'd score more points. He also only has 1.5 steals per game. Can he not take the ball from the weaker and less skilled players more often? When you look at it that way, Skip Bayless is right about how underwhelming LeBron's entire career has been.