Skip Bayless Bizarrely Rants About Comparing LeBron James' Lakers to Michael Jordan's Wizards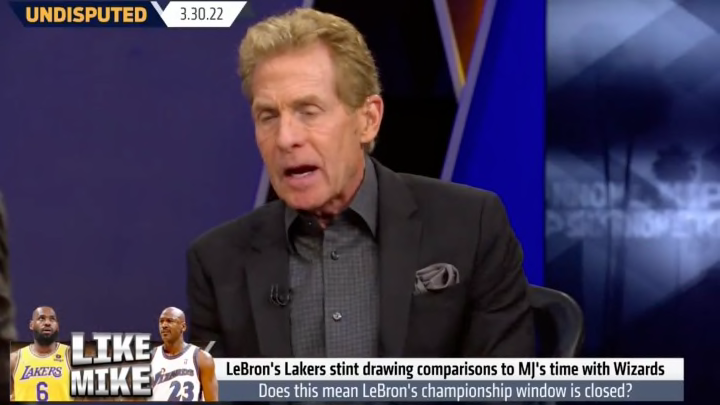 Skip Bayless /
Wednesday was a standard day on the Undisputed set as Skip Bayless launched into a rant about comparing LeBron James to Michael Jordan. Not unusual. This particular segment, however, was strange.
Because the onus of Bayless' latest outrage came from comparing LeBron's tenure with Los Angeles Lakers to Jordan's second post-retirement stint with the Washington Wizards. What's more, Bayless believes this to be an insult to Jordan. Not LeBron.
To start: this is not a real narrative. This appears to be entirely based off an article written in the Fort Worth Star-Telegram by Mac Engel titled, "LeBron James has turned the L.A. Lakers into Michael Jordan's Washington Wizards." The phrase "drawing comparisons" is technically true but doing a whole lot of work.
This is obviously an insane spin-job by Bayless. Perhaps one of his finest pieces of performance art, really. He is right to say that LeBron's Lakers have severely underperformed expectations, while Jordan's Wizards looking like a real basketball team and not a sideshow was a wonderful surprise for everybody. But LeBron's abilities at age 37 are laughably, hilariously, infinitely better than what Jordan was doing at 38 and 39 years-old with the Wizards. LeBron's team might suck but he's scoring more points per game in 2021-22 than he has since 2007-2008. He is putting to rest any doubt that he's still a top-five player in the game today. Not even the most ardent of Jordan supporters could've made that argument in the final years of his career.
The graphic the show is using is painting in real broad strokes that further call into question the sanity of the segment. LeBron's Lakers tenure has already resulted in a championship. Jordan never even made the playoffs in his Wizards tenure! They went 37-45 in both years Jordan was starting!
Even for Bayless, who is the conductor of the LeBron-Jordan content train, this is ridiculous.