Skip Bayless Concerned Over LeBron James Eating Ruffles While Watching Playoffs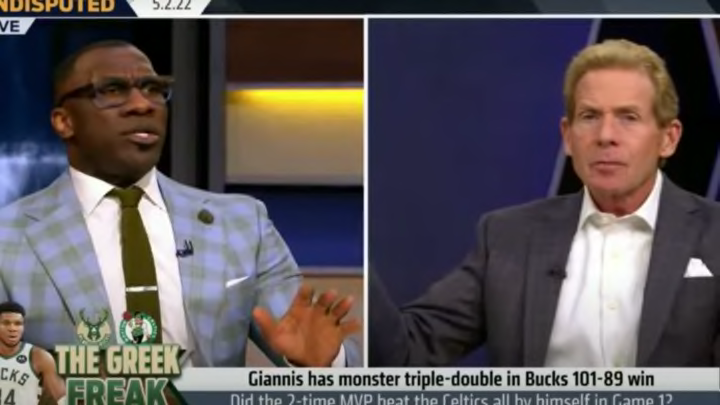 Skip and Shannon /
This year's NBA playoffs are taking place without LeBron James, a disappointing development for those who have enjoyed watching him go to work in the postseason over the last 15 years. It is especially so for Skip Bayless and the Undisputed producers, who know better than anybody that no one drives ratings like LeBron.
That does not mean Bayless hasn't found ways to mention The King throughout. Last week, he criticized LeBron for posting about his vacation whilst the postseason commenced without him. Today, Bayless expressed concern over his choice of chips to consume while watching the playoffs. The Fox Sports analyst wondered why LeBron would spring for Cheddar Sour Cream when he is a "fitness guru" and warned of the danger of eating too many.
"All I know is the best player on the planet, LeBron James, is LeGone. I saw him yesterday, he's sitting on the couch eating Ruffles! He was eating Ruffles! With cheese and sour cream. Cheddar Sour Cream Ruffles. They're his new brand. I thought LeBron didn't eat Ruffles. He's a fitness guru, right?"
When Shannon Sharpe accurately pointed out that one can eat anything in moderation, Bayless mumbled that it looked like LeBron was eating the whole bag and said that once you have a few, you just can't stop eating them. Then came the kicker quote: "KD could eat a whole bag of Ruffles right now and gain zero weight."
Much like his vacation segment, this is more about Bayless recognizing the absurdity of his bit and leaning into it more than looking to actually criticize LeBron. Sharpe plays a great part in it, too. Sports talk television is supposed to be a little absurd. Even if the Bayless-LeBron thing got old a long time ago.