Skip Bayless So High on Lakers-Warriors Series He's Comparing Kevon Looney to Dennis Rodman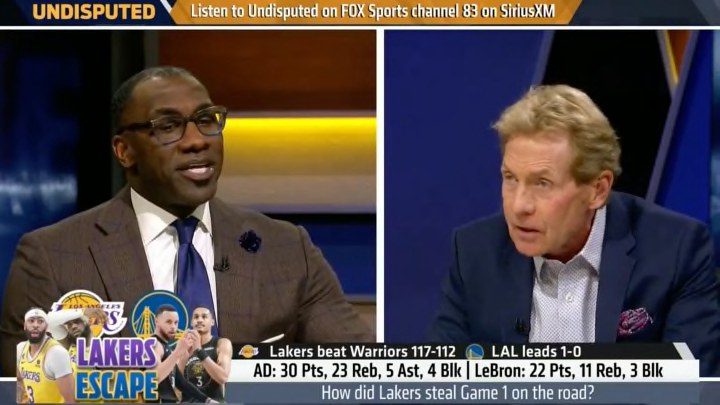 Skip Bayless /
The first game of the Los Angeles Lakers-Golden State Warriors series lived up to the hype and then some on Tuesday night. Anthony Davis put up an utterly monstrous statline and the rest of the Lakers teamed up to steal Game 1 on the Warriors' home court despite a comical difference in three-pointers made by the two sides. Stephen Curry and Co. managed to hit 15 more threes than the purple and gold, but it did not matter. Davis' dominance and the overall defensive intensity of the Lakers pushed them over the edge in the 117-112 thriller.
Skip Bayless was among the public-facing personalities who had high expectations for this series and seemed to be caught up in the exhiliration of being right about that on Wednesday's Undisputed. He lauded both sides for their effort (a rarity for Bayless in a series featuring LeBron James, Curry and the "always disappointing" Davis) before casually comparing Kevon Looney to Dennis Rodman and suggesting Looney could probably get 20 rebounds matching up against Wilt Chamberlain.
"[Anthony Davis] had 23 rebounds, but so did Kevon Looney, which is pretty hard to believe because Looney can't guard him, but Looney can bang with anybody of any height. We could bring Wilt back and Kevon Looney would probably get 20 rebounds off Wilt... He's got some Rodman in him. He's actually hungrier than Rodman ever was."
The Wilt part was a good example of using exaggeration for effect, but the Rodman thing was said a bit more seriously than all NBA oldheads would like. Admittedly the numbers do back it up because Looney has been putting up silly statlines over the last few games but still! Skip is usually the gatekeeper for stuff like this.
The Lakers-Warriors series will probably ruin all our brains. All we can hope is that we have a fun time doing it.