Latest NBA Leads
Skip Bayless Already Low on Lakers After New Big Three Preseason Debut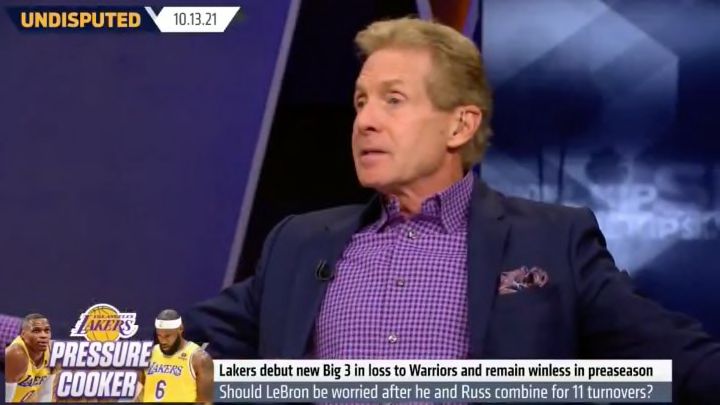 Skip Bayless /
We are now less than two weeks away from the kickoff of the 2021-22 NBA season, and the beginning of the Los Angeles Lakers' grand experiment. LeBron James, Russell Westbrook, and Anthony Davis are betting their combined skill and acumen will supersede any (legitimate, I might add) concerns about how their strengths mesh on the floor.
We all got our first taste of what this new Big Three looked like last night, when the Lakers played the Golden State Warriors in their pentultimate preseason game. It went... as expected, considering it was the first live action the trio has seen together. LeBron, Russ, and AD combined for 47 points, 12 assists, and 23 rebounds, but also turned the ball over 11 times.
It could be a micro example of the larger problems this team will face. All three players are excellent at stuffing the stat sheet but efficiency is hard to envision. On the other hand, it was a preseason game where nobody really cared that much anyway. That second point will not stop Skip Bayless, who used the opportunity to once again decry the combination and monologue about the impending doom the Lakers face. He spent at least 12 minutes talking about it.
Bayless has and will continue to have solid points about the basketball fit here, but his overt confidence that he will be right could make even the biggest Laker hater inclined to root for this Big Three to work out. That is why we are loyally documenting each of Bayless' strongest anti-Lakers takes. Just in case.