Skip Bayless Calls Dillon Brooks' Flagrant Foul Ejection a 'Flat-Out Joke'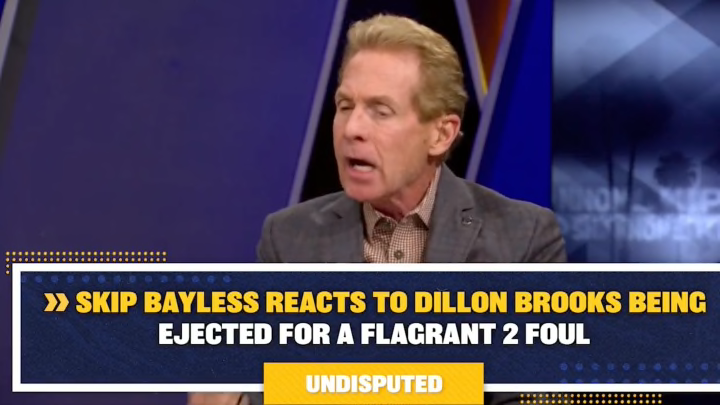 Skip Bayless Big Mad /
Last night, the Golden State Warriors lost a key rotation piece in the form of Gary Payton II after he broke his elbow following a Flagrant 2 foul from the Memphis Grizzlies' Dillon Brooks. It is the second ejection from the first two games of the series after Draymond Green got sent on his way in Game 1. Steve Kerr was absolutely incensed in the moment and after the game, calling it a dirty play whether it was intentional or not.
Draymond's flagrant ejection was divisive, but there was a pretty clear consensus on this one from the sports media world: Brooks deserved to be ejected. It was a hard foul that isn't necessarily out of place in playoff basketball but he blindsided Payton with a forearm to the head and directly caused a series injury that will almost certainly knock Payton out of the series and maybe the playoffs entirely. Nobody wants those kinds of plays. Play hard, foul hard, and don't hurt anybody. It's a fine line to walk but that's why these guys are paid millions to do it.
Skip Bayless was one of the few objectors to Brooks getting tossed. He all-caps tweeted about how it was a joke in the moment before explaining further on today's Undisputed.
It is no surprise that the king of sports opinion dissension comes down on this side of the argument but it does make one wonder if Bayless is watching the same game as the rest of us. If Brooks' foul doesn't warrant a Flagrant 2, what does, exactly? Does somebody need to channel Bill Laimbeer and clothesline Ja Morant on his way to the hoop for Bayless to be satisfied? The players are the product in the NBA. The league and the referees are tasked with protecting them at all costs.
I imagine Bayless' tune might sound a little different if it were Morant or Stephen Curry out with a broken elbow after something like that. The fact that it wasn't a superstar shouldn't change the call, and it was the right one.