Skip Bayless Does Not Think Aaron Donald is the Best Player in Football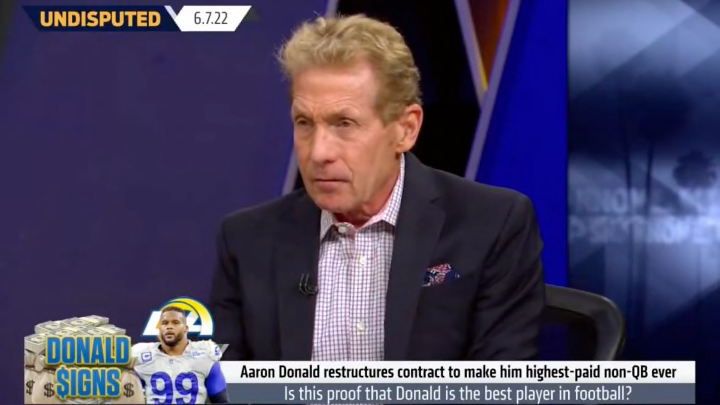 Skip Bayless /
Aaron Donald became the highest-paid non-quarterback in NFL history on Monday as the Los Angeles Rams gave him a massive $60 million contract extension. Donald effectively gets a huge raise over the next two years as incentive to stay on the field instead of retiring, as he's openly discussed several times since winning the Super Bowl. The Rams heard him and ponied up an appropriate sum for the multi-time Defensive Player of the Year winner who single-handedly ended the Cincinnati Bengals' season at SoFi Stadium in February.
The news has reminded everybody just how valuable Donald is. It isn't hard to make a case that he's the best player in football. Quarterbacks are obviously more valuable but Donald is so laughably better than his positional peers that one can absolutely argue he's a better player than even Patrick Mahomes while acknowledging that Mahomes is more valuable to his team. If the measurement of greatness is how one stacks up to his counterparts, Donald laps the competition.
Skip Bayless cannot believe that anyone thinks that. He is "gobsmacked" by the concept that Donald is the best player in the NFL. He explained this to Shannon Sharpe, with the basis of his argument mostly being that Donald hasn't blown up the stat sheet against the Dallas Cowboys.
It's the offseason and everything but it feels like Bayless isn't even trying. He knows what opinion will get the engagement but doesn't really care to formulate something resembling a coherent argument to back it up. Claiming Aaron Donald isn't the best player in the NFL because he only has one career sack against the Cowboys is one hell of a thing to say on live television.
His larger point obviously has some validity. The best player in the NFL shouldn't be less valuable than other players. But that's how good Donald is. The fact that we're even considering it should be as indicative as any stat line he posts.