Shirtless Bill Belichick 'Walk of Shame' Video Goes Mainstream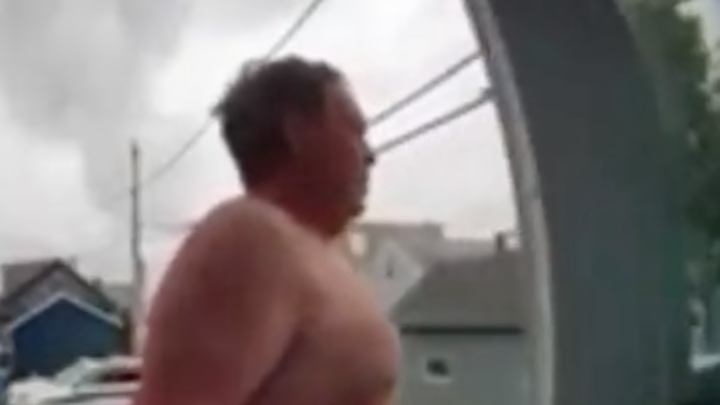 Here's what we know for sure. At some point in human history a man bearing a strong resemblance to New England Patriots coach Bill Belichick walked out of a domicile without a shirt to meet the morning gray. This event was captured by a Ring video camera. Then on Thursday morning the Twitter user @BabzOnTheMic tweeted it out with the caption "Bill Belichick doing the walk of shame [crying eyes emoji} #BenderBill".
It was engaging content but quite an assumption about what the grainy footage showed. It's roughly 15 years since I've taken a walk of shame but to my recollection the process usually goes as follows: 1. Wake up in a strange place 2. Gather your things 3. Escape from the situation and embark toward home base while specifically wearing the clothes you went out in the night before. Typically this involves a shirt as most people wear those out, even 71-year-olds who have legitimately impressive bodies for their age.
In this video the supposed Belichick is going full Vladmir Putin on a horse and doesn't have a ton of urgency. To this untrained eye it sort of looks like someone who needs to go retrieve a newspaper from the porch or quickly move their car before the parking ticket people get out there for the day.
All things considered it didn't get much play on the internet outside of social media as most outlets probably balked at dining at the conjecture cafe. But the Pat McAfee Show plays by its own rules and therefore built a 13-minute segment around the video.
In a different time I could have mustered the energy to critically assess the editorial choice but it's a holiday Friday and I don't have all the answers anyway. There are probably more serious people out there capable of lamenting the journalistic ethics of further spreading a narrative that makes some large assumptions. But instead I'd like to simply marvel at how much latitude ESPN's newish midday show has in how they operate.
Because it's almost impossible to imagine a segment like this appearing on the flagship airwaves in a slightly older era. It's almost impossible to imagine a different show taking this particular ball and running with it. Which is probably the point. McAfee's show is supposed to feel a little dangerous.
There were a lot of fans and neutral observers who thought the ESPN move would change the program, which affects a bit of a Wild West feel. A shirtless Belichick Ring discussion effectively quiets any of that chatter that may have remained. They have to this point and will continue to push the envelope.
You don't have to love it but you have to respect it.
Now that the video has been on such a prominent outlet, it feels like beat reporters need to ask Belichick about it. The query likely wouldn't yield any more answers or facts but who wouldn't want to hear the notoriously gruff and curt tactician grumble his way through an explanation of why he wasn't wearing a shirt at some point in his life?