Shilo Sanders Ejected On Questionable Targeting Call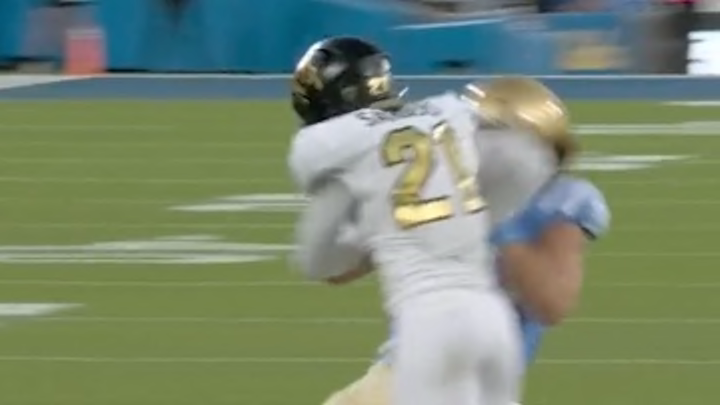 The currently unranked Colorado Buffaloes traveled to California to play the #23 UCLA Bruins on Saturday night. Late in the first half Colorado safety Shilo Sanders was ejected for targeting. UCLA quarterback Ethan Garbers completed a short pass to Carsen Ryan who was immediately hit by Sanders. As Sanders flexed to celebrate the big hit, a flag was thrown. Sanders, the non-quarterback son of Deion Sanders, was eventually ejected for targeting.
At full speed it looks like Sanders tries to lead with his shoulder, but replays appear to show he got Ryan in the facemask with the crown of his helmet. You can also debate whether or not he "launched" himself at the running back. Basically, it was hard football hit at full speed and whether or not you think it was worthy of an ejection comes down to rooting interest or how you feel about current player safety concerns.
As for the game, it was a low-scoring first half with UCLA holding just a 7-6 leading going into intermission. The Bruins turned the ball over four times in the half with Travis Hunter making two interceptions. Shilo Sanders caused one of the two UCLA fumbles.
Neither team able to muster 100 yards of total offense in the half.