Shaun Morash Just Authored the Worst Radio Take I've Ever Heard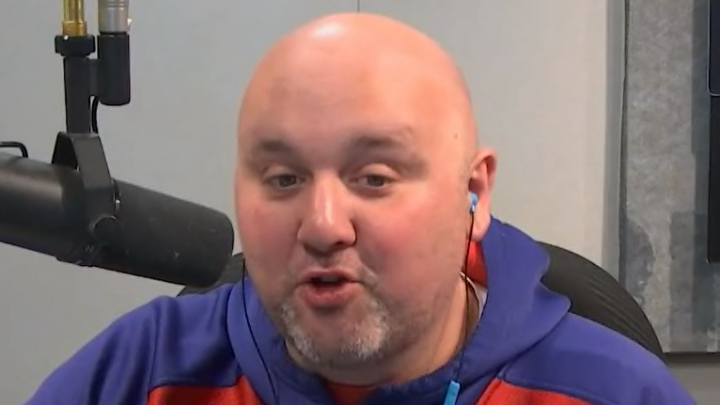 Shaun Morash took to the air Monday morning and authored quite possibly the worst radio take I've ever heard. It was the kind of fan policing that is so tired in this day and age. And his vehemence behind his opinion made it worse.
On Saturday, after San Diego State hit a buzzer-beater in the Final Four against FAU, videos emerged of celebrations and reactions from all over San Diego. The spontaneous joy was a lot of fun to see. One video that got a lot of traction was fans reacting to the game-winning shot at Petco Park before the Padres played the Colorado Rockies. It was a cool video showing the city's support for the Aztecs. Everyone loved it. Well, except for Morash.
Here's the video everyone was reacting to:
Morash is a contributor to The DA Show on CBS Radio, and rather than bask in what was a cool moment of joy for the city of San Diego, he decided to dump on it:
I mean, just a moronic take with no basis in reality. For nearly a week the Padres advertised a watch party at Petco before the game. The team opened the stadium at 2:30 locally (the SDSU game tipped off at 3:09) so fans could watch the game on the jumbotron. People with tickets to the baseball game (which started at 5:40) didn't have to pick between the two events. Then, given how long the basketball game went, the Padres moved the Final Four game to another screen (which was still visible to everyone in the stadium) while they announced the starting lineups. Something they're required to do by MLB.
When all of that was pointed out to him, Morash said the following:
OK, so let me first tell you what I think went on here. Morash saw that video, then instantly came up with a hard opinion and refused to budge on it, even when presented with more facts. Then as even more arguments came up, he was so dug in that he decided to double down, rather than admit it was a trash take.
You see, Aztecs fans who bought tickets to the Padres a long time ago, didn't need to miss the game. They didn't have to choose. They could do both and be completely happy with their decision. I'm in San Diego and there were watch parties all over town. There was one in San Diego State's arena and the celebration looked amazing:
Three weeks ago, no one had any clue the Aztecs would even be within shouting distance of the Final Four. And Morash acting like it's easy to get Padres tickets any time is ridiculous. The entire opening weekend was sold out, with a team record 174,915 fans, a new Petco Park record for a four-game series. Expect a lot of that this season.
People weren't just going to not go to the baseball game if they had tickets. Not everyone can flush that kind of cash down the toilet, especially these days. This was an opportunity for them to watch both games in public with other fans. Some even left their seats to watch in the concourse:
Morash's take was moronic and poorly thought out. Once he was presented with all the evidence he should have backed down. He did the opposite. No one would care if he relented. But he patently refused and just made things worse.
And here's the kicker. Morash claims to be a die-hard Yankees fan, but a few years ago he chose to go to a Billy Joel concert and missed a playoff game. Something tells me they didn't have the Yankees' game on screen at the concert.
Now who's a "fraud" fan?