Shaq on Former Bullets Player Rudy Hachimura: 'I didn't know who you were. I know who you are now.'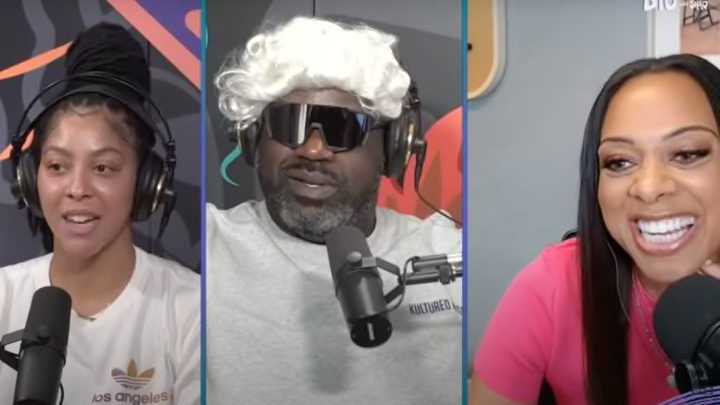 Candace Parker joined Shaquille O'Neal and Nischelle Turner on The Big Podcast this week to discuss the NBA as it heads into the All-Star break. About a half-hour into the podcast, the Los Angeles Lakers came up, as they so often do in basketball conversations. Shaq took the opportunity to apologize to Rui Hachimura. Or "Rudy" Hachimura actually.
"Let me apologize to Rudy Hachimura. I didn't know who he was because I never watch the Bullets play, but he's a fine role player. He's giving me Rick Fox vibes. Tough, pretty good defender. All the stuff, all the little stuff he's doing he's done a great job. he doesn't overdo it. So Rudy Hachimura, I apologize. I didn't know who you were. I know who you are now and I wish you well."
Parker finally steps in to ask him to say Hachimura's name again and Shaq sounds like he gets it, but he quickly pivots back to confusion. It's hard to tell if Shaq truly doesn't know Hachimura's first name. He is wearing an old timey powdered wig and sunglasses inside. He could be joking. At this point, not knowing players who aren't on playoff teams might be part truth and part bit. It often seems like something the Inside the NBA guys embrace.
Either way, it's great to hear Shaq break out the classic I wasn't familiar with your game which he originally used on Christian Wood.
The fact that he called the Washington Wizards the "Bullets," seems to suggest he's trying to be funny. The team became the Wizards in 1997, Shaq's sixth year in the league. He played 14 seasons in the NBA with the Wizards on the schedule. So really, who knows what goes on in Shaq's head at any given time. Like with the Rick Fox vibes thing.
I guess just step back and let Shaq keep cooking. He's an entertainer. It's art. It doesn't need to make sense.