Shannon Sharpe Blasts Paul Pierce For Defending Ja Morant: 'You Absolutely Should've Kept That To Yourself'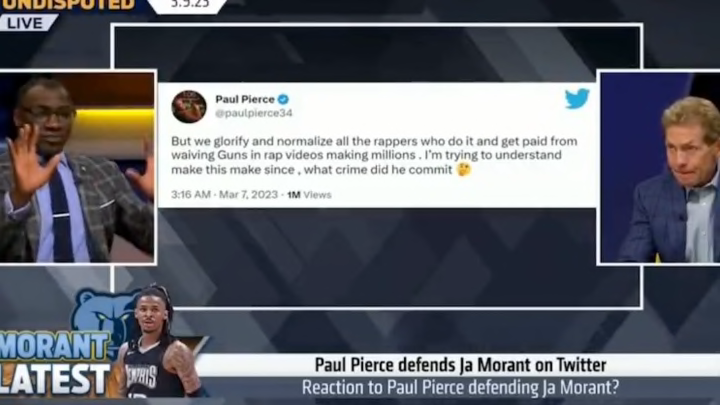 'Undisputed' /
There are not many willing to publicly defend the actions of Ja Morant after all that's happened, but Paul Pierce decided those were the waters he wanted to wade into earlier this week. The former Boston Celtics superstar tweeted out that we should not be quick to judge Morant for carrying a gun because he's a target and we do not know what Morant is going through.
It's certainly a take to have on the situation. Pierce doubled down two days later and wondered why rappers are glorified for waving weapons around in music videos but Morant gets criticized for what he did.
One day after this tweet Colorado police announced that they concluded their investigation of the Morant situation and found no evidence of criminal wrongdoing, so on that point, at least, Pierce is correct.
Eventually the tweets made their way in front of the Undisputed producers and they included it in today's show. Shannon Sharpe was not at all a fan of what Pierce had to say and admonished him for the tweets, saying Pierce absolutely should've kept those thoughts to himself.
Solid arguments here by Sharpe. But it will undoubtedly be the last time that a controversial opinion on Morant will be the subject of studio debate.