Shane Bieber Is a Popping Star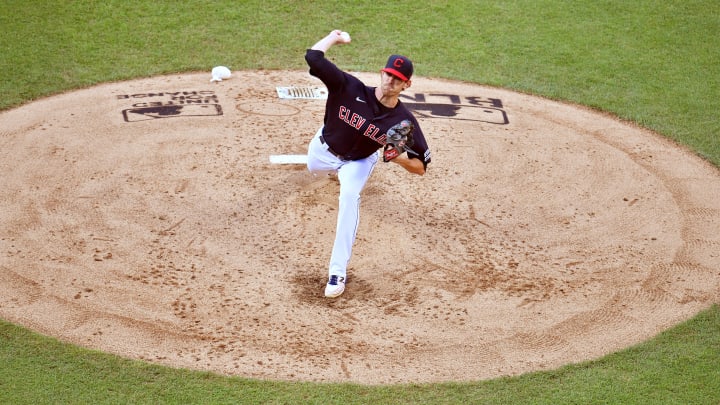 Jason Miller/Getty Images
Shane Bieber has taken a lot of heat and suffered through a ton of bad puns as a result of his surname from simpletons and wannabe comedians alike. The Cleveland Indians pitcher had no choice, then, but to forge his own path and make his own name — something he's been thrusting into bright lights and record books in his first two starts of the season.
Bieber struck out 13 batters over eight scoreless innings in the Tribe's victory Thursday night. This came on the heels of a dominant Opening Day performance that saw him rack up 14 punchouts over six innings. Only one other pitcher in Major League history has struck out 27 batters through the first two starts of a season (Brooklyn's Karl Spooner in 1954). Bieber bested the American League record held by Nolan Ryan by two. As a general rule, when you're breaking marks held by Ryan, you're on the path to success.
The 25-year-old's loud emergence as a budding ace should be no surprise. All he's done since making his debut in 2018 has been get outs and win games. He followed up an 11-5 rookie campaign by going 15-8 with 3.28 ERA, and 1.034 WHIP. Bieber led the league in complete games, shutouts, and fewest BB/9. These efforts were stellar enough to earn him a fourth-place finish in the Cy Young voting.
He has four above-average pitches, including a wipeout curveball that he loves throwing. He doesn't walk anyone and attacks the zone. He's the type of pitcher you'd create in a lab to start a big game.
And Cleveland will play a bunch of those as they're expected to compete for the AL Central crown and make the playoffs. Bieber as 33 percent of a three-man first-round rotation is a comforting thought — unless you're in the batter's box.
They'll have to be put in proper context, but it's worth considering how insane Bieber's stats could be if he stays hot. A shortened season means 11 or 12 starts, meaning he's about 15 percent in or so. A sub-1.00 ERA is definitely in play. Things could get pretty stupid, actually. And they should. Go ahead and take a run at Orel Hershiser's scoreless streak. That could span 80 percent of the year, easy.
Anyway. Bieber is already a household name. Plenty of room for a second one.