Sean Payton Sounds At Home on Fox NFL Pregame Broadcast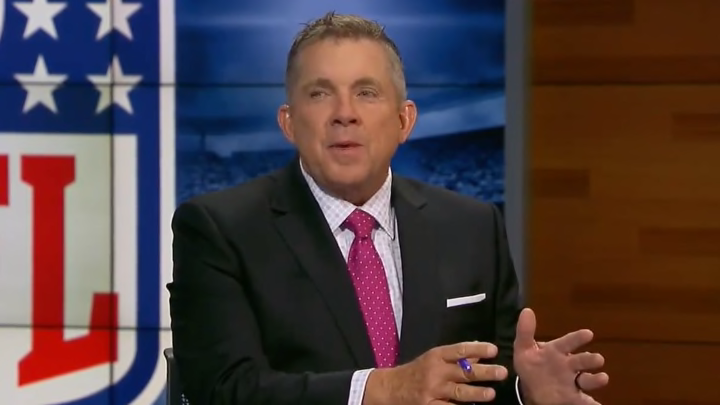 Sean Payton /
Sean Payton retired last offseason, choosing to trade his New Orleans Saints headset in for a Fox Sports suit and mic. Over the winter and summer Payton did a few spot appearances but this NFL season marked his real debut as a full-time pregame analyst for Fox. And through two weeks, he's done a pretty good job.
Payton has been on the sideline for the last 16 years and some adjustment to live television would've been understandable, but he hasn't had any trip-ups so far. Fox has done a great job of putting him in a position to succeed; the first two Sunday pregame shows have featured softballs lobbed to Payton for him to hit out of the park. This brief segment below concerning the Saints-Buccaneers rivalry is a good example.
But Payton has done more than that. He helps explain offensive concepts and gives his opinion on how other coaches have done using his extensive experience. He seems comfortable giving his opinion and does so succinctly without wasting too many words. Not all of his segments are brilliant insights into how an NFL offense operates but they don't need to be in order to add to the show.
The most impressive thing about Payton so far is that he has really fit in seamlessly. Fox has gone out of its way a bit to feature him but Payton's contributions outside of those segments feel natural. He does not dominate the screen and overall presents a fairly low-key persona but it's hard to slide into a new job and fit in immediately. Payton has done that.
Who knows how long Fox will have him, but for now Payton seems like a solid offseason addition for the pregame show. Nothing that'll change the industry, but Payton adds positive value without the rest of the team feeling the need to go out of their way to include him. It isn't easy to find someone like that in their first year of full-time television.