Sean McVay Laughed When Patriots Selected Cole Strange in First Round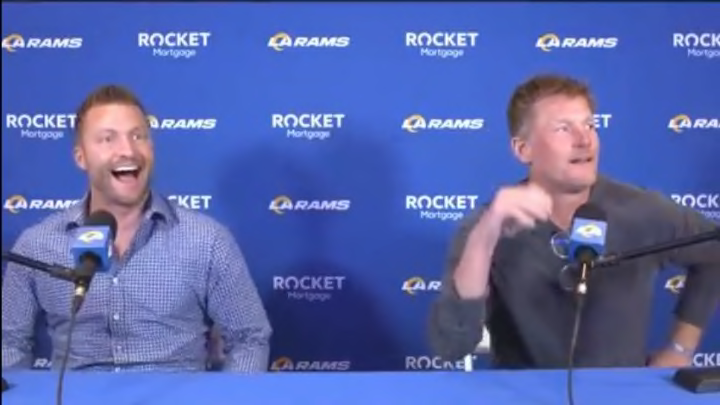 Sean McVay /
There are few constants in our mortal lives. Death. Taxes. And Bill Belichick selecting some small-school, no-name prospect approximately two-three rounds before anybody thought they'd go.
Which is exactly what happened Thursday night. The New England Patriots held the No. 21 overall pick heading into the 2022 NFL Draft. When their turn came around, they traded back with the Kansas City Chiefs to No. 29. There were still a few good defensive prospects available when the Pats were on the clock, like Dax Hill, or Nakobe Dean, or George Karlaftis. But Belichick is Belichick and instead of going with anything resembling a conventional choice, he picked Cole Strange of Tennessee-Chattanooga.
If that name sounds unfamiliar to you, it should! Strange was expected to go in the late second or third round at the absolute earliest. Instead he goes to New England with the 29th overall pick.
Los Angeles Rams head coach Sean McVay and general manager Les Snead were in the middle of a press conference when the pick was announced and both lost their minds that Strange went that high. McVay, in particular, thought it was hilarious that he spent time watching Strange's tape because he expected him to be around at No. 104, but instead went nearly 80 picks beforehand.
This is a fair reaction. Belichick is arguably the greatest football mind to ever live but his evaluation skills in the draft, especially in the first round, is awfully hit-or-miss. And it's so, so typical for the coach to take Strange. A trade-back followed by a small-school prospect that only the most passionate of mock draft readers have heard of? Yeah, that's a Belichick guy, alright.
Looking forward to Belichick spending the team's second-round pick on a special-teams ace from Appalachian State.