Sean McDermott Goes Full Ron Burgundy, Lifts Kettlebells in His Office During Interview
Good morning, football. Good morning, gains.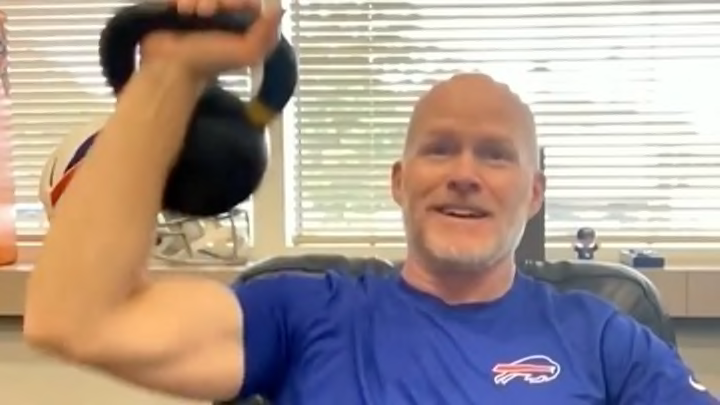 If Buffalo Bills coach Sean McDermott looks like the kind of guy who would have kettlebells under his office chair so he can maximize efficiency as he puts in 17-hour days preparing to stop the halfback counter, that's because he is a guy who does that. He's sort of what would happen if they let Jason Statham run an NFL team and he took the opportunity to show off his physique this morning during a live interview with Good Morning Football.
McDermott paid special attention to his shoulders, making sure to even out his repetitions so one deltoid did not get blasted more than the other.
If this looks familiar it's because the exact work-life balance Ron Burgundy displayed in Anchorman.
Just a man who is rapidly closing in on 50 doing some anaerobic exercise while on the clock and on national television. So many people at home must have been watching and felt truly seen for the first time.
Credit to McDermott for having fun and not being boring. Although it must be stated that across the media landscape, Kyle Brandt seems like the most effective peer-pressurer out there. I feel like he could convince me to do a stupid dance or sing or try out a horrible Al Pacino impression by asking nicely.
All of the other NFL coaches are now on notice and have an open invite to GMFB to showcase their own fitness routines, hopefully gradually raising the stakes until we get a shirtless Robert Saleh abusing a Smith Machine by Week 7.